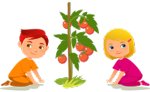 In Collaboration with DREFF, "Alimento" Screened at Colleges and Universities Through the Faces for Hunger 2019 Festival
October 21, 2019

Washington, DC – Thanks to the support of the Global Foundation for Democracy and Development (GFDD) and the Dominican Republic Environmental Film Festival (DREFF), the Dominican short film "Alimento" was selected to be screened at the Faces for Hunger 2019 film festival, an initiative of the Palms for Life Fund.
The festival took place at universities and colleges throughout the United States where institutions and student groups gathered to watch films and hold debates on issues related to food security, quality and waste. "Alimento" is one of fourteen short films that was part of a screening kit for college students to get informed and act on food issues.
The film was directed by Mijaíl Peralta and Wendy P. Espinal and was filmed in the Dominican Republic in 2016. "Alimento" (Food) had its US premiere at the Washington, DC Environmental Film Festival in 2019 as part of the GFDD/DREFF initiative, "Glimpses from Latin America: Sustainability Challenges Affecting Daily Lives", which took place on March 17, 2019 at the Carnegie Institution for Science.
The Faces of Hunger Short Film Festival 2019 aims to raise awareness about food quality, waste and security in the United States as well as around the world. Through films screenings and panel discussions the festival promotes dialogue on the impact of food on health and the environment. More than 30 university organizations and student groups work in association with the Palms for Life to involve young people in efforts to raise awareness on food issues.
For more information:
https://www.palmsforlifefund.org/2019shortlist
https://dceff.org/film/alimento/