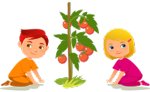 Final Countdown! Less Than a Month Until the Seventh Edition of the Dominican Republic Environmental Film Festival
October 18, 2019

Washington – The seventh edition of the Dominican Republic Environmental Film Festival (DREFF) starts November 12 with four days of movies and debates on the environment and climate change challenges. Three cities in the Dominican Republic -Santo Domingo, Santiago and Punta Cana- will be the sites of activities aiming to involve the community in debate on the most important challenge that our planet faces.
"We are reenergized with the same enthusiasm and drive that inspired us to create the first DREFF in 2011," stated the executive director of the festival and GFDD, Natasha Despotovic. The main goal remains the same: offer Dominicans a platform of information and debate about the environment and sustainable development, as well as challenges faced and the best practices to overcome them.
"DREFF, which features a large network of national and international partners, has reached more than 35,000 spectators over the years and continues to expand its impact throughout the Dominican Republic," said Despotovic.
Following its mission in past editions, the event will take on topics related to the conservation of species, oceans, plastic pollution, sources of renewable energy and other aspects of sustainable development. A total of 12 movies from six countries- Colombia, Argentina, Belgium, the United States, Mexico and the Dominican Republic- will be shown at new venues in association with universities, schools, libraries and cultural and research centers.
In addition to local experts, DREFF will feature a special guest: Victoria Sloan Jordan, producer of the documentary Albatross, who will be coming to the Dominican Republic thanks to the support of Delta Air Lines. Award-winning journalist and environmental filmmaker Marvin del Cid will hold various discussions on the use of new technologies in the production of environmental films, while the marine biologist and lead actor in the documentary Cacú, Omar Shamir Reynoso, will present that film in various screenings.
The films
Albatross, by Chris Jordan
Cacú: Un cambio por la vida, by Marvin del Cid
Chasing Coral, Jeff Orlowski
Chasing the Snot of the Whales of Samaná, by Marvin del Cid
El libro de Lila, by Marcela Rincón González
Worse Than Poop!, by Vanessa Warheit
Pandas, by Drew Fellman & David Douglas
Sea of Shadows, by Richard Ladkani
Ghost Fleet, by Shannon Service
Short children's films "La Tierra en mis manos", by Nicolas Conte
El Buzo, by Esteban Arrangoiz
Frontera invisible, by Nicolas Richat and Nico Muzi
The venues
Universidad Iberoamericana (UNIBE)
Universidad Nacional Pedro Henríquez Ureña (UNPHU)
Biblioteca Infantil y Juvenil de la República Dominicana (BIJRD)
Pontificia Universidad Católica Madre y Maestra (PUCMM)
Colegio Bilingue New Horizons en Santo Domingo
Colegio Bilingue New Horizons en Santiago
Instituto Iberia en Santiago
Centro Cultural Dominicano UTESA (screenings at CCD UTESA are in collaboration with the Centro Cultural León Jimenes)
Puntacana Village (in collaboration with Grupo Puntacana and Fundación Grupo Puntacana)
Program by Venues:
BIJRD – Santo Domingo
Colegio Bilingüe New Horizons – Santo Domingo
UNPHU – Santo Domingo
UNIBE – Santo Domingo
PUCMM – Santo Domingo
Instituto Iberia – Santiago
Colegio Bilingüe New Horizons – Santiago
Centro de Convenciones y Cultura Dominicana UTESA (CCCD UTESA) – Santiago
PUNTACANA VILLAGE
All the information on the film program, activities and schedule of screenings for DREFF 2019 will be released on www.dreff.org and on social media, @MuestraCineMedioambiental (Facebook) and @MuestraCine (Twitter and Instagram).