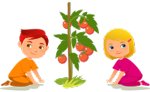 Special Guests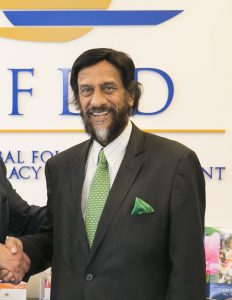 Guest of Honor:
Rajendra Pachauri
Dr. R.K. Pachauri is founder and chief executive of The Energy and Resources Institute (TERI) and founding director of the Yale Climate and Energy Institute (YCEI). He has held professorships in the US, Finland, Japan, Malaysia, Mexico, India, and other countries. From 2002 to 2015 he chaired the Intergovernmental Panel on Climate Change (IPCC), on whose behalf he received the Nobel Peace Prize in 2007. Dr. Pachauri holds 25 honorary doctorates and prestigious awards from the governments of India, Belgium, Finland, Japan, Mexico, and Italy among others. He has published 30 books, over 150 scholarly papers, and about 150 articles. Dr. Pachauri's connection with youth across the world and his concern for their future is the driving force behind his recently founded POP Movement.
Special Recognition to Fashion Revolution


This year, DREFF honors the non-governmental organization Fashion Revolution with a special recognition for its commitment to sustainable fashion and its hard work towards a more transparent, supportive and respectful of human beings and the environment industry.This international movement was born in 2013, after 1,134 people were killed and over 2,500 were injured when the Rana Plaza complex collapsed in Dhaka, Bangladesh. To commemorate these fatalities on April 24th, every year, Fashion Revolution Day brings together people from all over the world to use the power of fashion to change the story for the people who make the world's clothes. There are now over 80 countries worldwide taking part in the organization.In addition to screening the film
The True Cost
during its Opening Ceremony, DREFF is very pleased to host 2 representatives of Fashion Revolution: Marina Spadafora, the Country Coordinator for Italy and member of Fashion Revolution Global Advisory Committee for Europe, and Zaida Goveo Balmaseda, the Country Coordinator for Puerto Rico. Also joining us is the founder of Eco Fashion in the Park, Gina Constanza.
Anastasia Laukannen
Founder and Programming Director ECOCUP
Anastasia Laukkanen is the founder and programming director of ECOCUP Green Documentary Film Festival that takes place in Moscow and in other cities of Russia. She has background in journalism and actively covers environmental issues for Russian media. She has been living between Moscow and Istanbul for last two years. In Turkey she works with the Sustainable Living Film Festival and local environmental groups. Recently she has been preparing projects and film screenings for refugees in cities of Turkey. Anastasia speaks Russian, English, Italian, and Turkish.
Ash Pachauri
Senior Mentor of the POP Movement
With a PhD in Decision Behavior and a master's in International Management, Ash Pachauri worked with McKinsey & Company before pursuing a career in the field of development. His experience in the social arena covers a variety of international agencies. Dr. Pachauri also has a passion for Internet technologies and has developed the first electronic platform to support programmatic- and community-based knowledge exchange for the Bill & Melinda Gates Foundation's program in India. Widely published, winner of the prestigious Overseas Research Scholarship, awarded for advanced studies in the U.K., and recognized for his academic achievements, Dr. Pachauri pursues interests in research and teaching through ongoing collaborations.
Charlotte Vick
Content Manager for Google Earth's Explore the Ocean layer
Charlotte Vick works with noted oceanographer Dr. Sylvia Earle and her Deep Search Foundation and directs RVLL Ocean Endeavors providing communications, technology, resource management, and economic development expertise. Living most of her adult life on islands, Charlotte has a passion for finding ways to improve life in and around coastal communities. Charlotte graduated from the University of Texas at Austin and did additional studies at the University of Hawaii in ocean sciences. Her career has included government service at the state, national, and international levels as well as extensive work in marketing and communications for business, industry, and non-profit organizations. She is a member of the International Advisory Committee of the Dominican Republic Environmental Film Festival (DREFF).
Claude Kerven
Director and Screenwriter
Chair, Filmmaking Program, New York Film Academy
Kerven's career began with the debut of his short film Candy Store, which won an Academy Award for Best Dramatic Student Film. In 1982, he directed a series of Afterschool Specials for ABC-TV, including the Emmy Award winning Starstruck and the Director's Guild of America nominated High School Narc. Kerven also directed over 25 short films for Saturday Night Live.His most recent directorial work, They Never Found Her, starred Madmen's Elisabeth Moss and Fargo's Peter Storemare. In 1990, Kerven co-authored Mortal Thoughts for Columbia Pictures, starring Bruce Willis, Harvey Keitel and Demi Moore. As a directing and screenwriting instructor, Kerven taught at a number of prestigious film schools before accepting the Chair position at the New York Film Academy, a role he's fulfilled for over a dozen years.
Colleen Vien
Sustainability Director, Timberland
As sustainability director for Timberland, Colleen Vien is responsible for setting strategic direction for the brand's global CSR efforts, focused on product sustainability, protecting and enhancing the outdoors, and community and employee engagement. This includes internal and external stakeholder engagement, NGO relationship management and CSR reporting and communications. Colleen joined Timberland in 2005. Prior to being promoted to sustainability director in 2014, she led the company's Code of Conduct / Supplier Sustainability program, which continues to provide enrichment opportunities, beyond compliance, for partner factory workers. Colleen has a Bachelor of Business Administration in finance from the University of Wisconsin.
Danielle Ryan
Co-director The Sea & Me y A Journey through the Eyes of the Reef
Danielle first undertook a documentary internship at high school. However, documentary filmmaking seemed like a pipe dream to her, until her introduction to broadcast began at Nine Network Australia where she trained with the news desk. She then convinced cameraman, James Sherwood, to join her on their first expedition, leading the way as a journalist to secure a story about child labour in Nicaragua, which aired on Datelines SBS, 2011. Five years later, the duo has won eight film festival awards, highlighting the complex connection humans have with nature. She holds a degree in creative writing and a master of international relations.
David Verástegui Erosa
EcoFilm coordinator
Professional in the educational, social and cultural areas; holds a degree in Humanities with a specialization in Hispanic Literature and an MA in Creative and Cultural Industries Management, between Mexico , Argentina and Spain . He served as a professor of literature at the University of Monterrey and as coordinator of the Student Society at the same institution. In the social field, he has made community interventions in the Sierra Tarahumara, Mexico and the Maasai region in Kenya. In the field of cultural management, he has been part of the team of curator Rosa Pera in different Contemporary Art projects in Barcelona and currently serves as Coordinator of the International Environmental Short FIlms Festival, ECOFILM in Mexico City.
Debbie Kinder
Founder Bigworld Productions and Make a Difference Media
Debbie's career in business development and the medical field introduced her to the documentary business, where her first project was chronicling the humanitarian work of Para Todos Los Niños as they supplied medical aid to hospitals and orphanages in Central America. She later founded Bigworld Productions, an independent film company that tackles topics in the fields of healthcare, humanitarian work, and wildlife in award-winning documentaries; and Make a Difference Media, a non-profit organization with the mission to use media for the greater good. She has volunteered with organizations such as Global Volunteers, Habitat for Humanity, and the Jackson Hole Wildlife Film Festival, the pre-eminent international natural history film festival.
Denis Delestrac
Director Freightened: The True Cost of Shipping
Denis Delestrac stepped into filmmaking in 2001 when he met legendary photographer Steve McCurry, who would later become the subject of The Face of the Human Condition. In 2009, Delestrac teamed with executive producer Mark Achbar and signed Pax Americana. It received numerous accolades and led Denis to his next film Sand Wars, selected in over 40 festivals and winner of 15 awards including a Gold Panda, the Greenpeace Prize, and a Gemini Award, placing Delestrac as one of Europe's most bankable non-fiction directors. His recent film Banking Nature won 8 Awards, including the Greenpeace Prize 2016. Freightened, The True Cost of Shipping is the director's latest production. His films unstitch the hidden mechanics of our society, ones that blatantly stare us in the face and yet we are completely oblivious to. The force with which Delestrac exposes controversial issues has sparked public debate and influenced political decision-making internationally, positioning him as one of the most influential investigative filmmakers of this past decade.
Eladio Fernández
Conservation photographer
Eladio Fernández is a Dominican conservation photographer, a naturalist, author and publisher. He has one of the richest image banks on Caribbean flora, fauna, and natural landscapes. His work extends beyond natural subjects and also explores social and cultural subjects from the Caribbean. Eladio's images have been portrayed in magazines, such as the Wildlife As Canon Sees It ad campaign for National Geographic. Among his publications are: Hispaniola, A Photographic Journey Through Island Biogeography, Orchids of Dominican Republic and Haiti, and Parques Nacionales de la Republica Dominicana.
Fernando Abruña
Protagonist of The Absent House
Fernando Abruña is a graduate of the Rhode Island School of Design and the Pratt Institute of Technology and completed his Doctor of Design Science Degree as an apprentice to Richard Buckminster Fuller. Abruña is a licensed architect, a retired professor of the School of Architecture, Univ. of Puerto Rico, and Fellow of the American Institute of Architects. He is the bestseller author of numerous green design and construction books and has lectured on sustainability and green buildings worldwide. Known as the Father of the Green Building Movement in Puerto Rico, he is also the founder and former president of the US Green Building Council, Caribbean Chapter.
Fernando Báez
Director, Producer and Author
Fernando Báez is the founder and president of Unicornio Films and Grupo Único. With a Masters in Cinematography and another in Film Direction, Mr. Báez has made over 250 documentaries and has worked as a production manager with several TV stations. He has received numerous national and international awards. His productions include El rey de Najayo, the first movie made under the Dominican Film Law; Lago Enriquillo: A Prelude to Climate Change, premiered during the closing ceremony of DREFF 2016; and his latest production Flor de azúcar. Báez is member of DREFF´s National Advisory Committee.
Gaetano Capizzi
Director Green Film Network
Gaetano Capizzi graduated with a degree in Critique and History of Cinema, and works in the cinema field as critic and organizer of cultural events and film festivals. He has promoted independent Italian cinema through his film reviews, books, and cinematographic essays and directed the Cinema Indipendente Italiano Film Festival in Berlin. He is a founding member of AIACE-CIC (Centro Italiano Cortometraggio – Italian Short Film Centre) and is the director of Cinemambiente, the first environmental film festival in Italy, which he founded in 1998. Capizzi is the president and founder of Green Film Network (GFN), the network of major environmental film festivals.
Gil Enrique Matos
Director of Enrollment for Latin American and Caribbean at New York Film Academy
Gil Enrique Matos is the Director of Enrollment for Latin American and Caribbean at New York Film Academy. Matos worked for the Boston Red Sox Spanish radio broadcast and co-founded Sus Deportes Enterprises where he covered World Series, Super Bowls and NBA finals. He also worked as executive producer at award winning Boston Latino TV and sports editor at El Mundo newspaper. The Cuban-Dominican is a Magna Cum Laude graduate of Emerson College and lives in Miami where he enjoys real estate investing, photography, his twin French Bulldogs Rocky and Romy, and pizza, sometimes all at once.
Gina Costanza
Founder of Eco Fashion in the Park
For the past 6 years, Gina has found a new love for Eco Fashion. She has organized clothing swaps all throughout New York City. Her vision is to work with ecofriendly and independent designers that are more sustainable. In 2011 "Eco Fashion in The Park" in NYC was born!! Together, with the assistance of City Council Member, Ydanis Rodríguez and NYC Parks Department, they have been able to make "Eco Fashion in The Park" an ongoing event to promote awareness, among teens and young adults, and push them to collaborate in making a difference and creating social change throughout different communities.
Guillermo Ricart
Author of Mar Vivo
A Santo Domingo native and civil engineer by profession, Guillermo Ricart has loved photography, wildlife, and sea life since he was a kid. He began diving in November 2012, and has never once done so without his camera in hand. He has been privileged to discover and photograph the coastal depths of most of the well-known – and not-so-well-known – diving areas in the Dominican Republic, as well as the marine life of Los Jardines de La Reina in Cuba, Cozumel, Akumal, and Isla Mujeres in Mexico. Recently he discovered the Silver Bank, where he had the incredible experience of encountering the humpback whales. He is the author of a book dedicated to the marine depths: Mar Vivo (The Living Sea).
Gustavo Kurlat
Soundtrack Composer of The Boy and the World
Gustavo Kurlat is an author, musician, composer, translator, educator, scriptwriter, director, and music director for film and theater. He has created works for more than 60 different theater, film, television, album, and book productions in both Brazil and other countries, as well as translations, consultations, workshops, and classes in the field of education. On several occasions he has won the Shel, Apca, and Femsa prizes. Alongside Ruben Feffer, he composed the original soundtrack for the feature The Boy and the World, nominated for a Best Animated Picture Oscar and winner of the several international awards. His book Quando Blufis ficou em silêncio, written with Lorena Nobel, was nominated for the Jabuti Prize, the most important literary accolade in Brazil.
Jake Kheel
Co-director of Death by a Thousand Cuts
Jake Kheel is a leader in the field of sustainable development. For over ten years he has confronted diverse social and environmental challenges in the Dominican Republic as vice president of Sustainability at Grupo Puntacana and vice president of the Grupo Puntacana Foundation. In 2001, as a graduate student conducting his master's thesis, Jake saw firsthand the relentless deforestation in the Sierra de Bahoruco and the potential for conflict between neighboring Haiti and the Dominican Republic over this unique national park. This began an interest spanning nearly two decades in the Sierra de Bahoruco and its steady decline, an interest that eventually led him to conceive of Death by a Thousand Cuts. Jake has a master's degree in Environmental Management from Cornell University and Bachelor of Arts in Spanish and Latin American literature from Wesleyan University.
James Sherwood
Co-director The Sea & Me and A Journey through the Eyes of the Reef
James grew up in the filming and television industry with the dream of becoming an underwater cameraman. Since beginning his career as a teenager with Sydney-based production house, ZSPACE, he has worked his way up from a junior. He has worked on music videos, show reels, commercials, promotional packages and a range of other content for all the major Australian television networks. Now, a decade and a half later, he is now living is dream – filming, directing and editing documentaries about the ocean, and also holds a Bachelor of Marine Science from James Cook University in north Queensland.
Jasmina Bojic
International Relations Professor, Director of the Camera As Witness Program and Founder and Executive Director of the United Nations Association Film Festival
Jasmina Bojic has taught at Stanford University for the last twenty years. She has also worked as a journalist more than thirty years and as a producer/director on several documentaries and TV programs dealing with human rights issues. Nineteen years ago Jasmina conceptualized and organized one of the oldest international documentary film festivals in the US – UNAFF (United Nations Association Film Festival) at Stanford University. Jasmina is founder and director of the Camera As Witness program. In 2014 the ICFT presented the UNESCO Fellini Medal to Jasmina in recognition of her exceptional contribution in promoting the principles of the Universal Declaration of Human Rights through the art of documentary film.
Jean Lemire
Director
Trained as a biologist, Jean Lemire began a parallel career in filmmaking in 1987 to combine his love of research and science communication. Lemire and his team of sailors and scientists took the legendary Northwest Passage in 2002 (Arctic Mission), overwintered in the Antarctic in 2005-2006 on a 430-day mission (Antarctic Mission), and, in 2012, embarked on 1000 Days for the Planet, a three-year journey around the world to take stock of worldwide biodiversity, in conjunction with the Secretariat of the UN Convention on Biological Diversity. His films have won many prestigious prizes, including over 20 Gémeaux and Gemini awards, recognizing excellence in televisual production.
Jon Bowermaster
Director After the Spill and Dear President Obama
Jon Bowermaster is a six-time grantee of the National Geographic Expeditions Council and award-winning writer and filmmaker. Seeing the world from the seat of a sea kayak has given Bowermaster a one-of-a-kind look at both the health of the planet's oceans and the lives of the people around the globe who depend on them. His most recent films look at the controversy surrounding fracking in New York state and why so many coastal residents never learn to swim, though they live just a couple feet above sea level. Antarctica 3D: On the Edge is the first 3D film to be shot in Antarctica. He is a member of the International Advisory Committee of the Dominican Republic Environmental Film Festival (DREFF).
Kate Wallace
Conservationist and Environmental Educator
Kate Wallace began birdwatching guiding in 1997 and has been active as a guide ever since. Kate is a member of Birds Caribbean, formerly Society for the Conservation and Study of Caribbean Birds. As such she has been involved in many of the Society's activities and the Wetlands Conservation Project, involving workshops about the importance of wetlands. She is also the island coordinator for the Caribbean Waterbird Census, conducting counts in various important wetlands several times a year. She also participates in the Caribbean Endemic Bird Festival and International Migratory Bird Day, which include activity days at the zoo.
María Fernanda Rivero
Co-director of The Adventures of Itzel and Sonia
Maria Fernanda Rivero Gutierrez was born in Mexico City in 1981. She studied photography at MJM Paris for 6 months, and then went on to study Communication Sciences at the Universidad Iberoamericana. She completed a master's in Film Project Development ECAM in Madrid in 2005. In 2010, she won the "Fostering cultural projects and joint ventures" scholarship to conduct filmmaking workshops with indigenous children in the state of Michoacan. The same year, the documentary El camino a donde yo voy was nominated for the Ariel and won second place in the Morelia Indigenous Film and Video Festival. She is currently the managing director of the Cornea Films production company and the El Campo International Film Festival, this year in its ninth edition.
María José Martínez Conde
Co-director Elephants Can't Jump
Maria Jose Martínez Conde is a journalist and has worked in TV and print media. Today she is an executive producer and scriptwriter at Rojo Producciones, her production company. She also works as a freelance journalist in communication agencies, broadcaster in her radio show Las Tres Marías (Trends & Travels), and communications manager in LaCENTRAL radio online (www.radiolacentral.cl). From time to time she also writes literary chronicles and travel articles for periodicals.
Maribel Guevara
Director of Festival de Cine Verde Ecuatoriano
Maribel Guevara was born and raised in Quito, Ecuador, where she studied Tourism and was a professional modern dancer. She is now programming consultant at the Californian Film Institue and director of the Ecuadorian Green Film Festival and has also helped start and organize other environmental film festivals throughout Europe and Latin America. Maribel is inspired by documentary filmmaking and believes that film can change the world. She joined the Sea Shepherd Conservation Society in two campaigns to protect the Mediterranean bluefin tuna, inspired by the film Sharkwater.
Marina Spadafora
Diseñadora, coordinadora en Italia de Fashion Revolution
Marina's work has a strong social and environmental focus: her motto is " Fashion with a mission".  She is Director of the Fashion Program at the Altos de Chavon Design School in the Dominican Republic and Creative Director of "Auteurs du Monde", an ethical fashion brand entirely made by producers who belong to the World Fair Trade Organization. Marina works closely with italian Vogue director, Franca Sozzani, for Fashion for Development, an initiative that works directly with the United Nations  to bring development to the emerging economies through fashion. Marina received the United Nations Women Together Award in 2015. She collaborates with brands such as Prada, Miu Miu and Ferragamo. She is the Country Coordinator for Italy for Fashion Revolution and member of its Global Advisory Committee for Europe.
Marvin del Cid
Director of Biodiversity of the Dominican Republic
Marvin del Cid was educated in Communication Sciences and has vast experience in visual and multimedia areas. Currently he is a multimedia editor for Grupo Diario Libre in the Dominican Republic. He has exhibited his photography on five occasions, in four one-man shows and one group show. He won several photography prizes in the Dominican Republic and abroad, including having received special mention in the Epifanio Lantigua Journalism Award in 2013 for his work on Dominican Treasures, and in 2014 in the category of Sustainable Tourism.
Michael Cain
President: Earth Day Texas Film & Media
A native of Dallas, Michael received a Master in Fine Arts|Producing from the American Film Institute. It was there that he realized film could be used to "change the world." Michael produced and executive produced over 20 feature-length films for HBO and SHOWTIME. Michael formed M3 Films, Making Movies with a Mission with his wife Melina in 1999 and produced/directed the award winning doc TV Junkie (Special Jury Prize, 2006 Sundance Film Festival). He co-Founded the Dallas Film Society which hosts the Dallas International Film Festival (DIFF). He teamed up Trammell S. Crow and "Earth Day Texas" to launch an environmental film festival in April 2017.
Michael Cortina
A 2nd Generation Cuban-American filmmaker, born and bred in New Jersey in the shadow of New York City. Attended Tufts University in Somerville, Massachusetts graduating in 2012 with a degree in Psychology and Filmmaking. Michael works in Lower Manhattan at the New York Film Academy's 17 Battery Pl Campus where he serves as one of the school's equipment managers as well as manages the Technical-Staff for the Acting and Musical Theatre departments. He spends his free-time screenwriting or working as an Assistant Camera operator on independent films.
Michael Premo
Cast of This Changes Everything
Michael Premo is an artist, photojournalist and documentary producer, and strategist. He has created, produced, and presented original art and media with numerous companies including Hip-Hop Theater Festival, The Foundry Theater, The Civilians, Penny Arcade, Company One, EarSay, Inc., and the Peabody Award–winning StoryCorps. He's a co-creator and Executive Producer of Sandy Storyline, a participatory documentary that collects and shares stories about the impact of Hurricane Sandy on neighborhoods, communities, and lives. The project won the inaugural Transmedia Award from the 2013 Tribeca Film Festival. Michael also co-created and collaborates on the multimedia storytelling project Housing is a Human Right, which connects diverse communities around housing, land, and the dignity of a place to call home. Stories are shared across multiple platforms including radio, Internet, and interactive installations in unconventional places.
Michael Schwarz
Director of In Defense of Food
Michael Schwarz (producer and director) founded Kikim Media with his wife Kiki Kapany in 1996. His work has been honored with the most prestigious awards in broadcasting – including three national Emmy Awards, two George Foster Peabody Awards, the Alfred I. duPont–Columbia University Journalism Award, and the Grand Prize in the Robert F. Kennedy Journalism Awards for Coverage of the Disadvantaged. In addition to In Defense of Food, Schwarz is also currently directing The Valley, a three-hour cultural, intellectual, and technological history of Silicon Valley; and The Ornament of the World, a two-hour history of medieval Spain.
Nick Chevallier
Co-director of Blood Lions
Based out of Cape Town, South Africa, and with a deep love for the natural world, Nick is a director and cameraman with some 30 years' experience in filming socio-environmental documentaries around Africa. He focuses on stories relating to wildlife, research, conservation education, and community-based projects throughout Africa, working with local and international TV production companies and a variety of charities and NGOs.
Pedro Urrutia
Filmmaker
At the age of 19, Urrutia entered the world of film by working on well-known local productions. After completing his studies in Advertising Communications, he earned a scholarship to the New York Film Academy. Once he returned to his country, he founded Ave Studio, a production company that specialized in video clips. After setting up One Alliance Production Company under the Dominican Film Law, Urrutia made Código Paz, which premiered in 2014 to resounding national and international success.
Peter O'Brien
Environmental Media Consultant
Peter O'Brien is an environmental media consultant, and was the Executive Director of the Environmental Film Festival in the Nation's Capital from 2008-2014, guiding the organization during a period of strategic growth.  He serves on the board of the Environmental Film Festival, and on the board of the Green Film Network, an international film festival consortium.  He is also a member of the advisory committees for the Dominican Republic Environmental Film Festival, and the Cuba Environmental Film Festival.  A native of Washington, DC, he holds a B.A. in English and American Language and Literature from Harvard University, and an M.A. from Johns Hopkins University's School of Advanced International Studies.
Rodrigo Sáez
Co-director of Elephants Can't Jump
Rodrigo Saéz studied Cinema in Argentina and Chile and is a self-taught photographer. Currently he freelances for EFE and other media agencies. He is also director, editor, and cameraman in his production company, Rojo Producciones. He has worked as cameraman and director's assistant for television, and as movie editor for NGOs, ad agencies, and independent projects.
Roger Sorkin
Director The Burden
Producer, director and writer, Roger Sorkin, a graduate of Stanford University's Documentary Film and Video Program, is an award-winning filmmaker and a fellow with the Truman National Security Project.  Since 2002, his production company, Sorkin Productions LLC, has created films and political advertising campaigns for non-profit organizations, academic institutions, government and corporate clients including the U.S. Global Leadership Coalition, the U.S. Department of State, the U.S. Army, Center for U.S. Global Engagement, and International Foundation for Electoral Systems among others.
Rubén Abruña
Director of The Absent House
Rubén Abruña has worked in the film, TV, and radio industries for more than 25 years. He has written, produced, directed, and edited several documentaries, commercials, ads, and news and educational programs in New York, San Juan, Miami, and Zurich. Rubén is also a certified instructor of Adobe Premiere Pro CC, Avid Media Composer, and Final Cut Pro X, the three most popular editing programs in cinema and television production, and he has taught university-level courses in Puerto Rico and the mainland United States.
Seth Kramer
Co-director of The Antropologist
Seth Kramer is a three-time Emmy-nominated documentary filmmaker and the cofounder of Ironbound Films. His most recent documentary, The Anthropologist, premiered at DOC NYC in November 2015, screened at the COP21 climate talks in Paris, and won Best Documentary awards at the Arizona International and Santa Cruz film festivals. Seth lives in Red Hook, New York, with his wife Kristen and their daughter Lillian.
Shalini Kantayya
Director of Catching the Sun
Shalini Kantayya, filmmaker and eco-activist, finished in the top 10 on Fox's On the Lot, a show by Steven Spielberg in search of Hollywood's next great director. Her sci-fi film about the world water crisis, Drop of Life, won Best Short at Palm Beach International, and was broadcast on national television in the U.S. and India. A William J. Fulbright Scholar, Shalini has received recognition from the Sundance Documentary Program, IFP Spotlight on Documentary, New York Women in Film and Television, and the John D. and Catherine T. MacArthur Foundation. She is a Sundance Fellow, a TED Fellow, and was a finalist for the ABC Disney | Directors Guild of America Directing Fellowship.
Stuart Sender
Producer
Stuart Sender is an Academy Award nominated filmmaker, broadcast journalist, and screenwriter. His credits include producing and directing the Academy-Award nominated documentary Prisoner of Paradise, which also received a Directors Guild nomination and won the prestigious Grierson Award for best documentary on film. Stuart executive produced The Garden, which was nominated for an Academy Award for Best Documentary Feature. He began his career at CBS news, then worked as Senior Producer of the weekly PBS series South Africa Now, which won a Polk Award for excellence in journalism and a New York Emmy for best newsmagazine. He was Senior Producer of the documentary Mandela: Free At Last. He is a member of the International Advisory Committee of the Dominican Republic Environmental Film Festival (DREFF).
Suzanne Crocker
Director of All the Time in the World
Suzanne Crocker, a Canadian filmmaker from the Yukon in northern Canada, switched careers from rural family physician to filmmaker in 2009. Over the years Dr. Crocker has been involved in various environmental pursuits mostly focused on zero waste as well as researching the health and social impacts of how we choose to use digital technology. Suzanne created 10 short films in her first year of filmmaking.
Teresa Camou
Director of Sunú
Born and raised in México, Teresa has always considered herself a puppeteer, which she discovered to be her passion. After earning a bachelor's in Visual Arts and Social Science at Bennington College in 2004, she went on to found and lead the Sierra Tarahumara Indigenous Theater. Along with her work in theater, Teresa began to make on-site, documentary shorts about issues related to Tarahumara communities and filmed two stop-motion animations: Tewe Chiva Nesero (2007) and El Entierro (2008). She has recently produced and directed her first feature film, Sunú (2015), a documentary about the struggle of Mexican farmers to keep their native seeds. Teresa is now working on her second documentary feature.
Timoté Georges
Protagonist of Kombit, The Cooperative
Timoté Georges was born in Haiti in 1978. He studied Natural Resources and Peace at the United Nations–mandated University for Peace. In 2002 he joined the Haitian presidential program Alfa-Economic, a literacy campaign aiming to alleviate socioeconomic deprivation in the rural areas of Gonaives. Beginning in 2008 and continuing over the past 8 years, Georges has been deeply involved in environmental rehabilitation, natural resource management, and development capacity-building at the community level. In 2012 he co-founded a Haitian community-based grassroots organization called Smallholder Farmers Alliance (in Creole "Alyans Ti-plantè Ayiti"), of which he is also executive director. Georges lives in Haiti, and his aim is to pursuit the dream of sustainability for an ecologically safer world.
Valentin Thurn
Director of 10 Billion, What's on your plate and Taste the Waste
Born in Stuttgart, Germany, Valentin Thurn is director and author of TV documentaries for national and international channels, radio features, and articles for magazines; author of books such as Harte Kost (the book on his latest movie 10 Billion); and presenter at international congresses and workshops. He is also a member of the founding board of the International Federation of Environmental Journalists (IFEJ), of Reporters Without Borders, Netzwerk Recherche (Investigative Reporter's Network), and AGDOK (German Association of Documentary Filmmakers). In 2003 he founded the film production company Thurn Film, based in Cologne.
Zaida Adriana Goveo Balmaseda
Coordinator of Fashion Revolution in Puerto Rico
Zaida Adriana Goveo Balmaseda is a textile artist whose work serves as a hands-on manifesto of the symbiotic relationship we can have with nature, what we make, wear, and eat. She makes slowly and mindfully using exclusively local/organic fibers, recycled or found materials, and natural dyes.
Through her project BALMASEDA, she creates small batches of wearable items combining refined artisanal techniques with humble, yet unexpected materials. As a recipient of the Beca Lexus para Artistas, she is currently producing an installation for the Museo de Arte de Puerto Rico.
Her work has been shown at Textile Arts Center, Dutch Design Week, Green Fashion Competition, and Ethical Fashion Show.
Zaida Adriana advocates the ethical, hand-made, and recycling of textiles via talks and workshops (Manufacture NY, Slow Fashion Spain/Ethical Fashion Academy, Eileen Fisher, Brooklyn Museum), and is the Coordinator of Fashion Revolution in Puerto Rico.