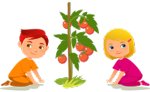 Master Class and Workshops
To reserve a spot, send us an email before September 6th: info@dreff.org
Environmental Filmmaking: Harnessing the Power of the Image
Master Class by Claude Kerven
As environmental filmmakers we understand the urgency to harness the power of the visual image. During this workshop, we will discuss and share ideas about how to better control this power in the hope that we might become more effective and persuasive visual storytellers. Our challenge will be to break the image into its fundamental visual elements. Then by examining clips from master filmmakers, observe how these elements have been orchestrated into visual structures designed to support their narrative structures.
Place: Academia de Cine Medio Ambiental Puntacana
Date: September 17
Time: 11:00 am
Place: FUNGLODE
Date: September 18
Time: 4:00 pm
Environmental Journalism
Taught by: Stuart Sender
Moderated by: Marvin del Cid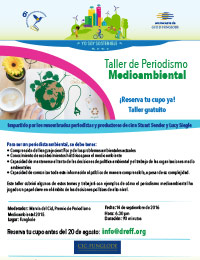 As an environmental journalist, one must have an understanding of scientific language and practice, knowledge of historical environmental events, the ability to keep abreast of environmental policy decisions and the work of environmental organizations, a general understanding of current environmental concerns, and the ability to communicate all that information to the public in such a way that it can be easily understood, despite its complexity. The workshop will cover some of these topics and work with examples that have made environmental journalism a key in the political decision-making realm.
Place: Funglode
Date: September 14
Time: 6:30 pm
Directing Workshop
Subtext: Bringing the Film to Life
Taught by: Claude Kerven
Subtext plays a vital role in bringing a film to life. It takes the movie from an external projection on a screen to an internal experience that an audience can live and enjoy. It is essential to directing films of honesty and complexity. In this 6-hour workshop led by NYFA Filmmaking Program Chair Claude Kerven, students will learn how to articulate subtext through the performance of the actors and the placement of the camera. The workshop will include shooting exercises at exterior locations and editing scenes.
In Partnership with NYFA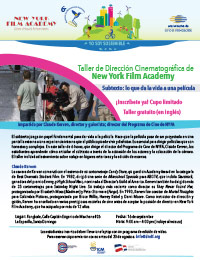 Place: Instituto Iberia
Date: September 15
Time: 9 am – 4 pm
Place: Funglode
Date: September 16
Time: 9 am – 4 pm
Animated Filmmaking and Creativity
Taught by: Gustav Kurlat
"The best thing about animation is that it allows for total creativity," says Brazilian director Alé Abreu, whose film O Menino e o Mundo was nominated for the 2016 Best Animated Feature Oscar. In this workshop, to be held after the screening of the film, Gustav Kurlat, the composer of its soundtrack, will explore the infinite creative possibilities of animated filmmaking as both an art form and instrument of social change.
Place: Instituto Iberia
Date: September 14
Time: 11:30 am
Place: Liceo Francés
Date: September 14
Time: 3 pm
Place: Saint Michael's School
Date: September 15
Time: 9 am
Place: Saint George School
Date: September 15
Time: 7 pm
Place: Colegio New Horizons
Date: September 16
Time: 11 am