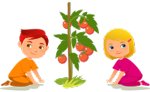 Special Activities
Globo Verde Dominicano Award Ceremony
Since 2012 the Globo Verde Dominicano Award has recognized environment-focused media content created by Dominican students and professionals in four different categories: Short Films, Globo Verde Junior, Public Service Announcements, and Photography. This contest rewards the best works and showcases them before national and international audiences. It also encourages Dominican youth to create media that raise awareness about the importance of the environment and sustainable development. The winners will be announced during a special celebration of Dominican environmental cinema on Friday September 16 at Funglode.
Place: Funglode
Date: Friday, September 16
Time: 6:00 pm
Closing Ceremony: Green Film Network Award 2016
DREFF is honored to host this year's Green Film Network Award, the "Oscar" of environmental filmmaking. Each GFN member presents a documentary chosen from their last festival and produced in their own country, showcasing the diversity and strength of environmental documentaries from around the world. An international jury representing more than 20 countries will choose the documentary to be screened at the closing of DREFF.
Place: Funglode
Date: Sunday, September 18
Time: 8:00 pm
Mar Vivo: Inauguration and Roundtable in the Colonial Zone
Photographer Guillermo Ricart and representatives of the group INICIA will open the Mar Vivo exhibition, to be held at The Colonial Gate 4D Cinema. The audience and special guests of DREFF will have the opportunity to speak with Ricart and the organizers about this initiative, which aims to highlight the Caribbean's rich marine biodiversity and the importance and urgency of protecting it.
Place: The Colonial Gate 3D Cinema, Santo Domingo
Date:  Wednesday, September 14, 2016
Time: 10:00 am
La Casa Ausente: Sustainable Architecture in the Caribbean
Both sustainable home design and this film have inspired a new generation of architects in Puerto Rico and the Caribbean who maintain that sustainable architecture is the proper and sole responsible option for this crisis-racked planet we call home. With special collaboration from Arquitexto magazine, all screenings of this documentary will include the presence of renowned local architects, who will share discussions with the audience and accompany DREFF's special guests Rubén Abruña, the movie's director, and Fernando Abruña, the famous Puerto Rican architect.
Thursday, September 15, UNPHU, Santo Domingo, 6:00 pm
Moderator: Carmen Ortega González, Editor, Arquitexto magazine
Guests: Fernando Abruña and Rubén Abruña
Local Experts: Victor Durán and Leyda Brea
Friday, September 16, Centro León, Santiago
Moderator: Carmen Ortega González, Editor, Arquitexto magazine.
Guests: Fernando Abruña and Rubén Abruña
Local Experts: Leyda Brea and Oliver Olivo