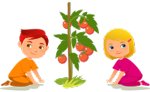 Community Activities
Make Your Own Binoculars with Recycled Materials!
Dominican kids from different schools will participate in a recycled art workshop taught by conservationist and environmental educator Kate Wallace, and learn how to make their own binoculars out of toilet paper rolls. The interactive workshop on recycling cardboard aims to raise awareness among children on the importance of managing waste and how they can make eco-friendly crafts. They'll then put their binoculars to use on the birdwatching walk led by Wallace the next day at the National Botanical Gardens of Santo Domingo.
Place: BIJRD, Santo Domingo
Date: September 14
Time: 10:00 am
Birdwatching Walk at the National Botanical Garden
Led by birdwatching expert Kate Wallace, kids will identify endemic birds that live on the island while also learning about the importance of preserving these animals' natural habitat … and having some fun while doing it! In the middle of a city with a metropolitan area of over two million people, the lush grounds of the National Botanic Gardens span 2 sq km and include vast areas devoted to aquatic plants, orchids, bromeliads, ferns, endemic plants, palm trees, a Japanese garden, and much more.
Place: Jardín Botánico Nacional, Santo Domingo
Date: September 15
Time: 8:00 am
Whale Sanctuary Banco de la Plata and La Navidad 30th Anniversary Celebration
The whale sanctuary Banco de la Plata and Banco de la Navidad is a protected area within the Dominican territorial waters that with Bahia de Samaná cover 33,000 sq km. This area stands out for hosting each year the largest breeding of humpback whales in the North Atlantic and for being one of the first whale sanctuaries in the world, established with a Decree in 1986. DREFF will join the celebrations by organizing a daylong seminar with experts from the Dominican Republic and abroad. There will be screenings of Jean Lemire's movies and, to close the day, a special screening of the film Sonic Sea at Funglode's headquarters.
Place: Funglode
Date: Thursday, September 15, 2016
Time: 9:00 am – 6:00 pm
Cleanup, Recycling, and Urban Art Mural at Las Dunas of Baní
DREFF and the Centro Cultural Perelló will work together to clean up Las Dunas! By creating a decorative mural made of recycled materials collected during the cleanup, local students and volunteers will beautify the area and raise awareness about sustainable waste management practices. With ReCreate program coordinator Bertha Santana's motivation and creativity, participants will learn the importance of practicing the 3Rs of solid waste management: reduce, reuse, and recycle.
Place: Centro Cultural Perelló
Date: September 14
Time: 10:00 am
#YoSoySostenible Photos and Videos Competition through Social Media – Winners Ceremony
Since April 30th DREFF's National Social Networking Competition "Yo soy sostenible has been accepting submissions from all around the country! Hundreds of participants have shared photos or 15-second videos of their favorite nature spot in the Dominican Republic on Instagram, Twitter, or Facebook, and invited their followers/friends to meet there. The photos and videos highlight an action promoting the environmental protection of the chosen spot (beach cleaning, recycling, etc.) with the hashtags #YoSoySostenible and #DREFF, and making reference to @MuestraCine and @DominicanaOnline. Winners will be announced during the Festival.
Place: Funglode
Date: September 16
Time: 6:00 pm
LandFill Harmonic in the New Community La Barquita
As part of the urban development and environmental rescue plan for Cuenca Ozama, the neighborhood La Javilla, in north Santo Domingo, recently inaugurated a new community, La Barquita, to which thousands of families who had been living in vulnerable conditions in the riverbed have now been relocated. This project includes sustainable practices in the community members' daily lives and has received a great deal of support from the government, the private sector, and civil society. To celebrate this initiative alongside our sponsor and friends from Centro Cuesta Nacional (CCN) – whose president Mr. José Miguel González Cuadra was the Director of the Commission that led the development of the project – DREFF will share the message of the film LandFill Harmonic with the members of the new community, helping to create an uplifting and positive new mindset.
Place: La Nueva Barquita
Date: Wednesday, September 14
Time: 6:00 pm