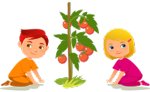 Dominican Documentary "Cacú: un cambio por la vida" Screened in Packed Funglode Auditorium
March 29, 2019

The feature Dominican documentary "Cacú: un cambio por la vida" (Cacú: A Change for Life) was screened at the Funglode headquarters in Santo Domingo on March 26 in front of more than 60 guests including, biologists, conservation photographers and students as well as representatives from the private sector and environmental government agencies.
The screening was carried out through the Global Foundation for Democracy and Development/Fundación Global Democracia y Desarrollo's (GFDD/Funglode) Dominican Republic Environmental Film Festival (DREFF) initiative.
Before the film played, an introduction was delivered by Reydi Moreta, head of social networking and promotion at GFDD/Funglode, who presented two special guests, the documentary's director Guatemalan/Dominican photojournalist Marvin del Cid and marine biologist Omar Shamir Reynoso.
The 79-minute documentary features the revealing story of five fishermen from the underprivileged community of Manresa, situated in the southwest section of Santo Domingo, who transitioned from being sea turtle nest predators to full-fledged conservationists.
Their four-year transformation process was spearheaded by Reynoso who developed a one-of-a-kind project in the Dominican Republic to bring together fishermen and communities to work on conservationist efforts.
The Dominican film was premiered globally in March 2018 at the DC Environmental Film Festival (DCEFF) thanks to GFDD/DREFF.
Following the screening was a Q&A panel discussion featuring del Cid and Reynoso, who spoke on the making of the documentary and the importance of working to conserve the world's turtle population. Accompanying the director and biologist in the panel were two fishermen from the Manresa area who were featured in the film as well as Yolando León from Grupo Jaragua.
The organization of this special screening was led by Moreta and Idrialis Castillo.