Panel / Discussion Session
Otter 501
Friday, September 6th at 10:00 AM Santo Domingo, FUNGLODE
Topic of panel:
Why Save Endangered Species?
Workshop
Say "cheese" mother earth! - Nature Photography
Friday, September 6th at 4:00 pm Santo Domingo, FUNGLODE
Workshop
Go Wild with GoPro!
Saturday, September 7th at 4:00 pm Santo Domingo, FUNGLODE
Panel / Discussion Session
Globo Verde Dominicano Award
Saturday, September 7 at 8 PM Santo Domingo, FUNGLODE
Topic of panel:
Environmental film: An Effective Tool for Eco Education
DREFF Announces Winners of Second Edition of Globo Verde Dominicano Contest
Santo Domingo, September 7, 2013
Tweet
A special ceremony in the presence of directors from Film Festivals all over the world, was hosted at FUNGLODE headquarters, on Saturday  evening, September 7 to announce winners of DREFF's Second Globo Verde Dominicano Contest. After the smashing success of last year's Globo Verde Awards,  this year's winners have also out-done themselves! The Short Film and Public Service Announcement Competition, whose objective is to generate environmental awareness and sustainable development, welcomed entries from far and wide across DR.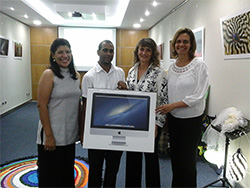 During the first stage of the competition, entrants remained anonymous, but the time has now come to announce the talented winners.
The two categories of the Globo Verde Dominicano competition are: Short Films with a maximum length of 15 minutes, and Public Service Announcements that are no longer than 40 seconds.
This year's enthusiastic participation was fantastic. The numerous insightful short films and clever public service announcements gave the national and international team of Judges many hours of serious work as they contemplated the wonderful entries. We thank and congratulate each and every one of you who joined us in this unique competition whose goal is to save and protect our beloved environment.  Winners or not, the goal speaks for itself.
However, a contest is a contest.   
And the winners are…
Fifteen-minute Short Film Category
First place winner of the short film competition is Sebastian Cabrera whose outstanding film Primeros Pasos, will be screened at the DC Environmental Film Festival where he will have the opportunity to attend all projections and special events at the Festival in Washington DC. Sebastian will also receive a GoPro camera.
Second place winner is, Brayan Grullón Abreu, for Truculencia Indómita,  and Third place winner is Ramsés Moreno García for Descarga Cero. Each of these two winners will receive an honorable mention for their excellent work and a free training course of their choice at FUNGLODE in Santo Domingo.
Public Service Announcement Category
First place winner in the public service announcement category, Querlin Cortorreal - Mi voz will receive an iMac computer.
Second and third place winners, Adria Mejía - Trituradora de árboles and Mohamed Ashraf - Distrito 62, in this category will both receive honorable mentions and a free training course of their choice at FUNGLODE.
About the Globo Verde Dominicano Award
Now in its second year, the objective of the Globo Verde Dominicano Award is to generate awareness around the importance of taking care of the environment and to inspire sustainable development while providing an opportunity to young Dominican filmmakers, students and professionals to get involved in making films about environmental issues.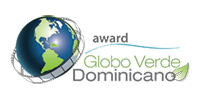 The open call for submissions to participate in the contest generally begins in February and closes in mid-July. Application, details and rules and regulations are all available on the webpage www.globoverdedominicano.org.  So feel free to submit your short films or public service announcements and join the fun and excitement of this contest, not to mention the awesome prizes.
All winners will receive their prizes at the closing ceremony and finale which will take place at FUNGLODE auditorium at 6pm on Sunday,  September 8. The closing film will screen documentary Thirsty World and feature VIP guest and the film's director, Yann Arthus-Betrand.
About GFDD and FUNGLODE
GFDD and FUNGLODE, organizers of the Dominican Republic Environmental Film Festival, now in its 3rd year, have always viewed the environment and sustainable development as relevant issues and are continually developing and undertaking related projects and numerous initiatives. With these projects and initiatives, the Foundations seek to foment respect for biodiversity, natural resources and environmental actions that serve the ecosystem, not only among Dominican citizens but all inhabitants of the planet Earth.
Comments