Panel / Discussion Session
Otter 501
Friday, September 6th at 10:00 AM Santo Domingo, FUNGLODE
Topic of panel:
Why Save Endangered Species?
Workshop
Say "cheese" mother earth! - Nature Photography
Friday, September 6th at 4:00 pm Santo Domingo, FUNGLODE
Workshop
Go Wild with GoPro!
Saturday, September 7th at 4:00 pm Santo Domingo, FUNGLODE
Panel / Discussion Session
Globo Verde Dominicano Award
Saturday, September 7 at 8 PM Santo Domingo, FUNGLODE
Topic of panel:
Environmental film: An Effective Tool for Eco Education
GFDD Short Film Wins Best Documentary at the 2014 Green Lens Environmental Film Festival
De Kalb, Illinois, February 27, 2014
Tweet
GFDD received recognition at the Green Lens Environmental Film Festival 24-27 February 2014, where its short film "Garbage or Resource? A Dominican Republic Experience," an official selection of this year's festival won the Best Documentary Category.
The 17 minute short film, which has had a successful run since its premier at the III Dominican Republic Environmental Film Festival (DREFF) last September in the DR, has also been released at two major European Environment Film Festivals in 2013, and one in the US at Princeton early in 2014.
Audiences at Green Lens were able to observe what is happening in the Dominican Republic with regard to recycling "garbage" and view it differently -- as an invaluable resource and raw material which can be manufactured into completely new products.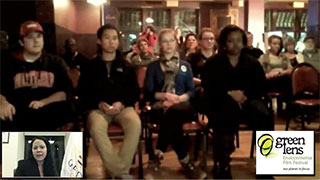 The organizers of the event, Festival Director, Melissa Burlingame, and co-Director, Gillian King-Cargile said that the award recognizes the finest documentary film in competition, and invited GFDD Environment Programs Manager Emy Rodriguez, who co-wrote the film script, to receive the award on behalf of the Organization and answer questions from the audience.
Emy was asked about the inspiration behind the film and stated that in dealing with the trash epidemic in the Dominican Republic, GFDD wanted to generate awareness of the organic movement taking place in the country and was attempting to motivate the public to support positive efforts, informing them of the great amount of raw materials and resources that are being wasted.
In response to a question concerning the possibility of making other films, Emy affirmed that GFDD is interested in producing short educational films underlining the main focal points of its DREFF initiatives, including: biodiversity conservation, waste management, sustainable agriculture, climate change and sustainable development.
Regarding the film's impact and any significant changes that may have been made, Emy felt that by spreading the word and giving examples you can share positive experiences with the people at the frontline. This tends to motivate other groups to join in the effort and helps to convince them that each has a unique role to play.
Ms. Rodriguez continued that, with the film, GFDD goes to various environmental festivals and tries to introduce it to people with decision-making powers in governments, international civil society organizations, and businesses. She believes that the multiplier effect of a documentary can be very influential in raising awareness, disseminating scientific studies, transmitting and providing inspiring and motivational messages.
By screening the films free of cost, engaging audiences and at the same time inviting community representatives and stakeholder from public and private sectors to join in on the discussion we are more likely to bring communities together.
Finally, Emy addressed the audience interest in health concerns for those who dig in the trash. Clearly there is an issue, although, the majority live adjacent to these landfills appear blissfully unaware of the dangers, and are more concerned with the income they can achieve.  More education is obviously required here.
The Ministry of Public Health and Social Assistance regulates these health conditions within a workplace, but it may not apply to the informal sector which these landfills form part of. It is understood that the Ministry of Environment is currently working on General Law for Integrative Waste Management, which includes statues to formalize and include these informal sectors into the system so that they can be covered by already existing health regulations and social assistance can be provided in case of arising health hazards.
The interview concluded with Green Lens thanking Emy Rodriguez and the GFDD for their invaluable contribution to the Festival and discussion, and looked forward with interest and anticipation for future quality film productions as intimated.
About the Green Lens:
The mission of the Green Lens Environmental Film Festival (GLEFF), -- which is planned by the he Institute for the Study of the Environment, Sustainability, and Energy (ESE Institute) and the Division of Outreach, Engagement, and Information Technologies at Northern Illinois University --   is to provide the Northern Illinois region with an opportunity to experience films with environmental themes that are relevant to both the local and global communities. The GLEFF provides a venue for filmmakers to screen their films and receive recognition for significant contributions. The festival seeks to explore topics related to the environment, sustainability, and energy while encouraging community involvement.
Related Links:
http://garbage.dreff.org
http://www.niu.edu/greenlens/Films/2014films.shtml
http://www.niu.edu/greenlens/
Comments