Panel / Discussion Session
Otter 501
Friday, September 6th at 10:00 AM Santo Domingo, FUNGLODE
Topic of panel:
Why Save Endangered Species?
Workshop
Say "cheese" mother earth! - Nature Photography
Friday, September 6th at 4:00 pm Santo Domingo, FUNGLODE
Workshop
Go Wild with GoPro!
Saturday, September 7th at 4:00 pm Santo Domingo, FUNGLODE
Panel / Discussion Session
Globo Verde Dominicano Award
Saturday, September 7 at 8 PM Santo Domingo, FUNGLODE
Topic of panel:
Environmental film: An Effective Tool for Eco Education
GFDD's Participates in the Princeton Environmental Film Festival with its own Dominican Eco-Short
New York, January 29, 2014
Tweet
As part of its mission to elevate awareness of environmental challenges and to promote the sustainable use of natural resource, Global Foundation for Democracy and Development (GFDD) is pleased to announce its participation in the 8th annual Princeton Environmental Film Festival, to be held in Princeton, New Jersey, from January 30 – February 9, 2014. In a close collaboration with the Princeton Public Library, the sponsor of the event, on January 31 GFDD will showcase its original 17 minute short film entitled "Garbage or Resource? A Dominican Republic Experience", which debuted at the III DR Environmental Film Festival this past September in the Dominican Republic, as well as being shown at two prominent European environment Film Festivals later in 2013. (View Synopsis | View Trailer).
The theme covered in the film, particularly how recycling has become an important economic opportunity for Dominicans, ideally falls within the scope of the PEFF which aims to engage the community in exploring environmental sustainability from a wide range of angles and perspectives.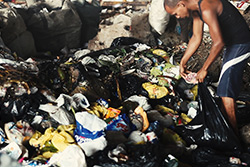 "Garbage or Resource? A Dominican Republic Experience,"already a success at the Drap-Art European Recycling Festival, where it was shown in December, and the FICMA, where is was screened in November, should be well received with an American audience, because "it inspires, it moves and it calls to action."
GFDD will be represented at the highest levels by both its Executive Director, Natasha Despotovic, and the head of the New York office, Yamile Eusebio in order to promote the topic of the film and the Foundations important environment initiatives.
About the Princeton Environmental Film Festival (PEFF)
The Princeton Environmental Film Festival is a program of the Princeton Public Library and is held annually in the winter at 65 Witherspoon Street in downtown Princeton, NJ. Founded in 2006, the PEFF's mission is to share exceptional documentary films and engage the community in exploring "a sense of place" - to find a meaning in people's connection to their home and the planet. Traditionally, the Festival's screenings are accompanied by a Q&A with film directors and producers, as well as other talks by invited speakers who visit for the festival or live in Princeton community. With the festival growing every year, the organizers are mindful to expand their reach while keeping the PEEF character focused on being a great and special local event.
Related Links:
http://garbage.dreff.org
http://community.princetonlibrary.org/peff/about/
Comments