Panel / Discussion Session
Otter 501
Friday, September 6th at 10:00 AM Santo Domingo, FUNGLODE
Topic of panel:
Why Save Endangered Species?
Workshop
Say "cheese" mother earth! - Nature Photography
Friday, September 6th at 4:00 pm Santo Domingo, FUNGLODE
Workshop
Go Wild with GoPro!
Saturday, September 7th at 4:00 pm Santo Domingo, FUNGLODE
Panel / Discussion Session
Globo Verde Dominicano Award
Saturday, September 7 at 8 PM Santo Domingo, FUNGLODE
Topic of panel:
Environmental film: An Effective Tool for Eco Education
GFDD and Human Film Crew to Give Workshop on "The Art of the Interview: Techniques for Establishing Good Dialogue in the Production of a Documentary"
Santo Domingo, February 15, 2014
Tweet
As part to the Dominican Republic Environmental Film Festival's (DREFF) year-round activities, GFDD and the film crew of Human are organizing a workshop on documentary interviewing techniques for filmmakers, journalists and broadcasters. The workshop will take place on Monday February 17 at 6:00 pm at the offices of FUNGLODE in Santo Domingo.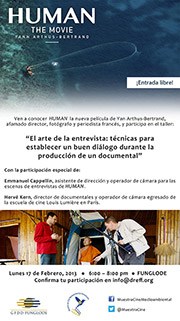 The Human documentary project will also be presented at the workshop. Human, French director and photographer Yan Arthus-Bertrand's new film, includes interviews done in 60 countries of men and women from different social and cultural backgrounds intercut with exclusive aerial images.
Emmanuel Cappellin, assistant director and camera operator for the interview scenes in Human, and Hervé Kern, documentary director, camera operator and graduate of the Louis Lumiére Film School in Paris, will oversee the film screening and workshop.
As part of GFDD's mission to implement initiatives that contribute to the social, economic and cultural development of the Dominican Republic as well as its deep commitment to the environment and sustainable development, the GFDD is collaborating with its sister organization FUNGLODE, host of the Human screening, in the management and coordination of the filming process of this documentary in the Dominican Republic and Haiti.
Yann Arthus-Bertrand was one of the guests of honor last September at the III Dominican Environmental Film Festival where he, in addition to giving a Master Class on photography, presented two documentary films: A Thirsty World and Planet Ocean. The renowned French director also took the opportunity to tour the island of Hispaniola and, with his team, began the first stages of filming the documentary Human in the Dominican Republic and Haiti.
Comments