Panel / Discussion Session
Otter 501
Friday, September 6th at 10:00 AM Santo Domingo, FUNGLODE
Topic of panel:
Why Save Endangered Species?
Workshop
Say "cheese" mother earth! - Nature Photography
Friday, September 6th at 4:00 pm Santo Domingo, FUNGLODE
Workshop
Go Wild with GoPro!
Saturday, September 7th at 4:00 pm Santo Domingo, FUNGLODE
Panel / Discussion Session
Globo Verde Dominicano Award
Saturday, September 7 at 8 PM Santo Domingo, FUNGLODE
Topic of panel:
Environmental film: An Effective Tool for Eco Education
GFDD, FUNGLODE and the Puerto Plata Tourism Cluster Present the III Edition of the DR Environmental Film Festival
Santo Domingo, August 24, 2013
Tweet
On Friday August 23, 2013, the III Edition of the DR Environmental Film Festival was announced at a press conference held in the government offices of Puerto Plata. The Festival, to be held from September 4-8, will take place in eight cities: Santo Domingo, Santiago de los Caballeros, Puerto Plata, Punta Cana, San Francisco de Macorís, Baní, San Juan de la Maguana and Sosúa at a total of 19 venues.  This year's interesting selection of films is expected to attract schools, universities as well as the general public. All information, up-to-the-minute updates, in both English and Spanish, can be found on the website: www.dreff.org.
This year's five themes of interest are: oceans, biodiversity, green economy, sustainable agriculture and climate change.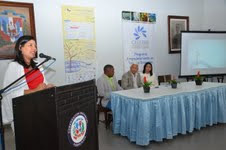 The press conference introducing the Festival was led by Mrs. Jakaira Cid, Executive Director of the Puerto Plata Tourism Cluster; Mr. Tomas Callender, President of the Association of Hotels and Restaurants of Sosúa and Cabarete; Mr. Juan Pablo Plácido as a representative of the Government of Puerto Plata and Ms. Yamile Eusebio Paulino, Director of Operations of the Film Festival.
INAUGURATION OF THE FESTIVAL IN PUERTO PLATA
(Thursday, September 5, 2013- 7:00PM)
The Sosua Bay Gran Casino will be the venue for the inauguration of the III DR Environmental Film Festival. The opening film will be the award-winning documentary Minds in the Water, which tells the story of professional surfer, Dave Rastovich and his friends as they turn their efforts to protect the dolphins, whales and the ocean environment they all share. Dave takes an international, five-year journey around the world, from Australia to the Galapagos, Tonga, California, Alaska and Japan to spread the word. The film captures Dave's own awakening as well as his struggle to awaken interest among the community to help protect the ocean and its inhabitants.
A SHORT PREVIEW
Here is a short preview of the films that will be screened…
Planet Ocean – An excellent documentary filmed by directors Yann Arthus-Bertrand and Michael Pitiot and their team, in partnership with OMEGA and the scientific support of Tara Expeditions, Planet Ocean captures the extraordinary images of our remarkable oceans - the source of all life on our planet. Presented at Earth Summit 2012 in Rio de Janeiro (RIO+20), Brazil in June, Planet Ocean is a collaborative film that seeks to explain some of the planet's greatest natural mysteries. It highlights how essential it is that mankind learns to live in harmony with our oceans.
Money & Life: A Story about Money That Will Change your Life -- Money & Life is a passionate and inspirational essay-style documentary that asks a provocative question: can we see the economic crisis not as a disaster, but as a tremendous opportunity?  This cinematic odyssey connects the systemic dots of our current economic pains and offers a new story of money based on an emerging paradigm of planetary wellbeing that understands all of life as profoundly interconnected.
Between Islands: A Lifeline of Survival -- "Some end up in wheelchairs, some end up like me," says a Dominican fisherman who drags his legs between two sticks that serve as crutches in this documentary about the dangers facing fishermen who use tubes from compressors to breathe underwater. The divers can go down as deep as 30 meters though risking the lethal bends that can cause serious decompression diseases, permanent physical damage or even death. Exquisite shots of the Dominican Republic's marine life beg the audience to preserve and conserve a natural heritage like none other.
Sharkwater – For filmmaker Rob Stewart, exploring sharks began as an underwater adventure.  What it turned into was an amazing life experience and beautiful journey into the balance of life on earth. Driven by passion and his lifelong fascination with sharks, Stewart debunks historical stereotypes and media depictions of sharks as bloodthirsty, man-eating monsters and reveals the reality of sharks as pillars in the evolution of the seas. Filmed in visually stunning, high definition video, Sharkwater takes us into the most shark-rich waters in the world, exposing the exploitation and corruption surrounding the world's shark populations in the marine reserves of Cocos Island, Costa Rica and the Galapagos Islands, Ecuador. Stewart's journey of courage and determination changes from a mission to save the world's sharks, into a fight for his life and that of humankind.
What Would Darwin Think? Man vs. Nature in the Galápagos (Short film) – After Charles Darwin first visited the island archipelago of Galapagos in 1839, it took him another twenty years to decipher what he'd witnessed - the most perfectly preserved biodiversity on the planet. His theory of evolution, published 150 years ago, pulled back the curtain on a debate that had been simmering for years, and still percolates. Today, Darwin would be surprised by the tourist mecca Galapagos has become - 200,000 visitors a year and 40,000 permanent residents. The impact on the most unique collection of endemic wildlife in the world has been heavy; too many people bringing too many of their ways (and invasive species) from the outside world threatening the future of this one-of-a-kind place. What would Darwin think of how Galapagos has evolved in the twenty-first century?
ABOUT DREFF
The DR Environmental Film Festival is an initiative of the Fundación Global Democracia y Desarrollo (FUNGLODE) and its sister organization in the United States, the Global Foundation for Democracy and Development (GFDD), in collaboration with the: Ágora Mall; NGO Alliance; The American School of Santo Domingo; Banco de Reservas; Bepensa; Children and Youth Library of the Dominican Republic; Centro Cuesta Nacional; Centro Cultural Monina Campora; Centro Cultural Narciso González; Centro Cultural Perelló; Centro Cultural León Jiménez; Children International; ECORED; Propagas Foundation; FUNDAZURZA; Siempre Mas Foundation; Impulsar ORG; INSAPROMA; Ministry of Environment and Natural Resources; Odebrecht; OH! Magazine; Plan Lea; Puerto Plata Tourism Cluster; Listín Diario; PUNTACANA RESORT & CLUB; UNAPEC; UNPHU; Vida Azul Foundation and Ztadium Studios.
Since 2011, the DR Environmental Film Festival has sought to raise awareness and deepen comprehension of environmental issues while serving as a catalyst for projects and programs that promote responsible environmental practices as the result of interaction between young people, the general public, teachers, experts, activists, filmmakers and leaders in the public & private sector.
Follow us on Facebook and Twitter, and don't miss any of the latest developments!
Visit our webpage for more information and the full program: www.dreff.org or contact us at info@dreff.org
Comments