Panel / Discussion Session
Otter 501
Friday, September 6th at 10:00 AM Santo Domingo, FUNGLODE
Topic of panel:
Why Save Endangered Species?
Workshop
Say "cheese" mother earth! - Nature Photography
Friday, September 6th at 4:00 pm Santo Domingo, FUNGLODE
Workshop
Go Wild with GoPro!
Saturday, September 7th at 4:00 pm Santo Domingo, FUNGLODE
Panel / Discussion Session
Globo Verde Dominicano Award
Saturday, September 7 at 8 PM Santo Domingo, FUNGLODE
Topic of panel:
Environmental film: An Effective Tool for Eco Education
DREFF Celebrates World Water Day with a Special Screening of the Film A Thirsty World
Santo Domingo, March 20, 2014
Tweet
As part of its Year-Round Environmental Film Screenings Program, the Dominican Republic Environmental Film Festival (DREFF), in collaboration with the Vida Azul Foundation, will be hosting a special screening of the film A Thirsty World. The film screening, which being heldin commemoration of World Water Day, will be free of charge and open to the public. It will take place this coming Saturday March 22 at 3 pm, at Sambil's Espacio Verde (Green Space) in Santo Domingo.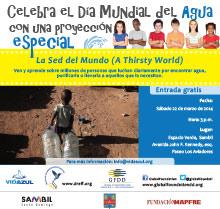 Established in 1993, World Water Day has been embraced as a time for introspection, outreach, education and awareness on the state, but also the fate, of the world's water resources. Honoring World Water Day provides a unique opportunity to focus public attention on the critical water issues of our era, while promoting concrete activities for sustainable water use. DREFF is proud to contribute to this endeavor by calling attention to the plight of the 'bottom billion', who live in impoverished rural areas without access to safe drinking water.
About A Thirsty World
Yann Arthus-Bertrand's latest film focuses on one of the major challenges to human survival: water. Today, as the world's population increases and the impact of climate change worsens, water has become one of our planet's most precious natural resources. Filmed in 20 countries, A Thirsty World reveals the mysterious and fascinating world of fresh water through spectacular aerial images shot in difficult to reach and rarely filmed regions, like Southern Sudan or Northern Congo. It enables us to discover the most beautiful landscapes on our planet, the lakes, rivers and wetlands created by water. Blending the filmmaker's trademark aerial views of the world with the harsh, everyday reality of people who are deprived of water and may even die for lack of it, the film also spotlights people engaged in the daily struggle to find water, purify it or bring it to those who need it.
About DREFF
The DR Environmental Film Festival is an initiative of Fundación Global Democracia y Desarrollo (FUNGLODE) and its sister organization in the United States, Global Foundation for Democracy and Development (GFDD). Created in 2011, the DREFF raises public awareness and deepens the understanding of pressing environmental issues through the medium of film.
Seeking to reach an ever-greater number of communities, institutions and individuals, the Festival organizes year-round environmental film screenings. Combining high quality film screenings with panel discussions, and workshops, the year-round program serves to educate, highlight best practices and inspire dialogue among the general public.
For more information on how to schedule a film screening, please visit us online at: www.dominicanscreenings.org
Links:
http://www.unwater.org/worldwaterday
http://www.muestracinemedioambientaldominicana.org/film_thirsty_world_en.asp
http://www.globalfoundationdd.org/fulltext.asp?t=a&id=8701
Comments