Panel / Discussion Session
Otter 501
Friday, September 6th at 10:00 AM Santo Domingo, FUNGLODE
Topic of panel:
Why Save Endangered Species?
Workshop
Say "cheese" mother earth! - Nature Photography
Friday, September 6th at 4:00 pm Santo Domingo, FUNGLODE
Workshop
Go Wild with GoPro!
Saturday, September 7th at 4:00 pm Santo Domingo, FUNGLODE
Panel / Discussion Session
Globo Verde Dominicano Award
Saturday, September 7 at 8 PM Santo Domingo, FUNGLODE
Topic of panel:
Environmental film: An Effective Tool for Eco Education
GFDD and FUNGLODE Inaugurates the III DR Environmental Film Festival in Several Cities around the Country on Thursday
Santo Domingo, September 6, 2013
Tweet
After its successful Gala Inauguration in Santo Domingo on Wednesday, the Global Foundation for Democracy and Development (GFDD) and its sister institution in the Dominican Republic, Fundación Global Democracia y Desarrollo (FUNGLODE), opened the III Dominican Republic Environmental Film Festival (DREFF) on Thursday with gala celebrations and gatherings, large and small, around the country, attracting film lovers and environmental activists and enthusiasts from all walks of life in theaters from Sosúa Bay, Puerto Plata, Baní, Punta Cana, Santiago de los Caballeros, San Francisco de Macoris, San Juan de La Maguana, to conference rooms and cultural centers. Thursday was a huge film night across the country as Dominicans flocked to these free educational and entertaining events.
Let's start in the balmy town of Sosúa at the Sosúa Bay Grand Casino where the opening film was very apropos: Minds in the Water, about one man's quest to protect dolphins, whales and the oceans they all share. Film director Justin Krumb followed the quest of pro surfer Dave Rastovich and his friends on a five-year journey that took them from Australia, to the Galapagos to Tonga, California, Alaska and Japan.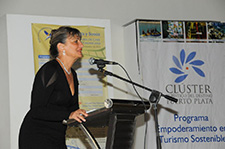 DREFF Director, Natasha Despotovic introduced the award-winning documentary to an enthusiastic crowd who obviously identified with the film's sentiment. After all, Sosúa Bay - an area of Puerto Plata – attracts serious water sports enthusiasts, divers, swimmers and snorkelers from all over the world. Indeed, whale watching is a popular tourist activity here in the winter.
In introducing the documentary, Ms. Despotovic told viewers that the Festival's five themes this year are: ocean conservation, biodiversity, climate change, green economy and sustainable agriculture.
The message of the film, added Ms. Despotovic, is similar to the goals of the DR Environmental Film Festival: to inspire people to take action and make a difference. Many in the audience, who are naturally ocean-minded people, seemed to agree that to pass on a sustainable culture, we must all become responsible stewards of our coastal environment. And the Dominican Republic has a rich coastal environment.
The audience in Sosúa was moved by Dave Rastovich's personal transition from an ocean-minded admirer to an ocean activist when he embarked on a personal mission to help stop the worldwide commercial slaughter of dolphins and whales. Surely this will be an inspiration for the countless ocean-minded admirers who live in or visit the Dominican coasts.
Moving on but staying on the topic of oceans, the Festival opened in Baní with the extraordinary documentary Planet Ocean, by director Yann Arthus-Bertrand who is also a special guest and panelist at this year's DREFF. Ms. Yamile Eusebio, Director of the GFDD office in New York, introduced this extraordinary film at the Perilló Cultural Center here in the capital city of Peravia. This stunningly shot film kept viewers rapt for 90 minutes with extraordinary images of our remarkable oceans. Originally shown at Earth Summit 2012 in Rio de Janeiro Planet Ocean is a collaborative film that aims to explain some of the planet's greatest natural mysteries. It highlights how essential it is that mankind learns to live in harmony with our oceans. Again, Dominicans clearly identify with the concept of protecting the source of all life on our planet: the oceans.
In Punta Cana at the Galerias PUNTACANA, GFDD's Marc Jourdan opened the Festival last night with an interesting American documentary, Harmony, which looks at the root causes of the global problems we face today and provides a new perspective on how to meet these challenges. Many of the viewers in Punta Cana saw the movie as a call to action, which is exactly what its director, Stuart Sender, hoped would happen. The film, inspired by the Prince Charles, proposes that one way forward is to transform our relationship with the planet and restore balance in our lives - restore harmony.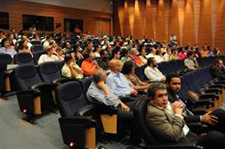 In Santiago de los Caballeros at the Leon Jimenes Cultural Center, GFDD's Mandy Sciacchitano introduced what many critics and academics are calling a must see movie, Trashed about one of the fastest growing industries in the North America – the garbage business. American writer, Russell Baker, put it this way: "The American dream is to turn goods into trash as fast as possible." This film examines the stream of waste produced in America, nearly a half billion tons per year, and looks at the effects of piling up garbage on top of more garbage. What is it doing to our biosphere? Where will we keep putting it all? These questions were clearly going through people's minds last night in Santiago after seeing this dramatic and brutally honest documentary.
The DREFF is proud to announce that we have added yet another city for film lovers and concerned citizens to see environmental films: San Juan de la Maguana in the province of San Juan. Last night, this new film venue, the Monina Cámpora Cultural Center, was inaugurated along with the DREFF with the film Uranium Drive In, written and directed by Suzan Beraza. DREFF Committee Advisor, Cesar Guillermo, introduced this film which tells the story of a town in Colorado which had fallen onto hard times and chronic unemployment. Then along comes a chance to turn things around: a uranium mill is being proposed, the first to be built in the USA in 30 years. Sadly, the community splits over the issue – jobs versus environmental interests from a nearby resort town. Tough questions are asked and emotional debates ensue. Many in the audience here in San Juan must have thought it all sounded too familiar. How do we keep up our lucrative tourism industry in the Dominican Republic and still protect and preserve our resources? There must be a balance.
About the III DR Environmental Film Festival
The III DR Environmental Film Festival, September 4 to 8, 2013, was originally founded by former Dominican President, Dr. Leonel Fernández, who is the current President of the DREFF. The Festival aims to raise awareness and deepen the understanding of environmental issues among Dominican audiences. Now in its 3rd year, the Festival seeks to promote dialogue and inspire Dominican audiences to adopt practices that will ensure the country's environmental sustainability and health. As part of this objective, the Festival seeks to provide all audiences, with a focus on youth, an opportunity to see the most beautiful, informative and educational environmental films of the year, made both in the DR and abroad. The universal themes of the films seek to educate viewers about the pressing issues while instilling an appreciation of the diversity and beauty the country has to offer and, hopefully, inspire greater environmental stewardship.
Screenings will take place in different locations across the country including the cities of Santo Domingo (28 screenings between September 4-8), Santiago de los Caballeros (4 screenings between September 5-8), Puerto Plata (7 screenings between September 5-7), Punta Cana (3 screenings between September 5-7), San Francisco de Macoris (8 screenings between September 5-8), Bani (5 screenings between September 5-7) and San Juan de la Maguana (3 screenings between September 5-8).
Visit our webpage for more information and the full program: www.dreff.org or contact us at info@dreff.org.
Follow us on Facebook and Twitter, and don't miss any of the latest news!


Facebook: http://www.facebook.com/MuestraCineMedioambiental


Twitter: http://twitter.com/muestracine
Comments