Panel / Discussion Session
Otter 501
Friday, September 6th at 10:00 AM Santo Domingo, FUNGLODE
Topic of panel:
Why Save Endangered Species?
Workshop
Say "cheese" mother earth! - Nature Photography
Friday, September 6th at 4:00 pm Santo Domingo, FUNGLODE
Workshop
Go Wild with GoPro!
Saturday, September 7th at 4:00 pm Santo Domingo, FUNGLODE
Panel / Discussion Session
Globo Verde Dominicano Award
Saturday, September 7 at 8 PM Santo Domingo, FUNGLODE
Topic of panel:
Environmental film: An Effective Tool for Eco Education
Jon Bowermaster to be Guest of Honor of III DR Environmental Film Festival
New York, August 28, 2013
Tweet
GFDD/FUNGLODE is pleased to announce the participation of renowned environmentalist Jon Bowermaster as a Guest of Honor at the III DR Environmental Film Festival to be held September 4 - 8, 2013.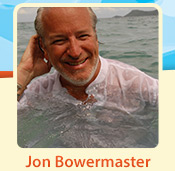 Noted oceans expert and longtime grantee of the National Geographic Expeditions Council, Jon Bowermaster, is the founder of the "Oceans 8" project, a ten-year long series of expeditions around the world's oceans. Born out of his desire to study the health of the oceans and the nearly 3 billion people who depend on them, Oceans 8 enabled Jon and his team of photographers, scientists and filmmakers, to reach rarely seen corners of the world and provide the public with much-needed, and previously unknown, information about the state of the world's oceans.
In addition to sharing his significant contributions to the environment, and substantive knowledge about the world's oceans, Jon will also discuss with DREFF participants how the rapid growth of ecotourism is threatening the very habitats it is meant to protect and how tourism in these areas must be responsibly managed in order to protect the unique ecosystems from dangers posed by increasing numbers of visitors.
Now in its third year, DREFF is globally recognized as one of the preeminent environmental film festivals in the Americas with screenings on all facets of current environmental and sustainable issues. With the participation of influential environment advocates such as Mr. Bowermaster, the festival continues its tradition of presenting audiences with world-class academic experiences centered around intellectually captivating, visually dramatic documentaries and films from around the globe.
All the film screenings, workshops, panels and discussions are free and open to the general public. Please mark your calendars for a special masterclass with well-known photographer, journalist and environmentalist, Yann Arthus-Bertrand on Sunday, September 8!
For more information on the festival program please go to our website: www.dreff.org.
Comments