Panel / Discussion Session
Otter 501
Friday, September 6th at 10:00 AM Santo Domingo, FUNGLODE
Topic of panel:
Why Save Endangered Species?
Workshop
Say "cheese" mother earth! - Nature Photography
Friday, September 6th at 4:00 pm Santo Domingo, FUNGLODE
Workshop
Go Wild with GoPro!
Saturday, September 7th at 4:00 pm Santo Domingo, FUNGLODE
Panel / Discussion Session
Globo Verde Dominicano Award
Saturday, September 7 at 8 PM Santo Domingo, FUNGLODE
Topic of panel:
Environmental film: An Effective Tool for Eco Education
Renowned filmmakers Lucy Walker and Yann Arthus-Bertrand participate as Guests of Honor during the III DR Environmental Film Festival
New York, August 23, 2013
Tweet
On August 12, GFDD/FUNGLODE are delighted to announce the participation of this year's Guests of Honor at the III DR Environmental Film Festival (September 4-8, 2013), namely two-time Academy Award nominated British film maker Ms. Lucy Walker and the reputed French photographer, journalist, reporter and environmentalist, Mr. Yann Arthus-Bertrand.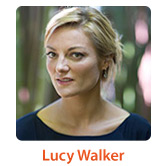 Lucy has made over 15 films and won over fifty awards focusing on a host of sociological and environmental issues. She was nominated for two Academy Awards for her films Waste Land (Best Documentary Feature, 2011) and The Tsunami and the Cherry Blossom (Best Documentary Feature, 2012). Lucy will be joining GFDD/FUNGLODE at the festival in the Dominican Republic for the screening of The Tsunami and the Cherry Blossom, her 8th film, which focuses on the aftermath of the devastating tsunami of March 11th 2011 and shares the journey of survivors in the areas hardest hit by Japan's recent tsunami. They find the courage to revive and rebuild as cherry blossom season begins - a symbol of hope and new beginnings in Japanese culture. Lucy's inspiring stories of survival and the beauty of the human spirit aim to inspire positive action in the face of such climate disasters. In doing so, Lucy's films underscore the importance for humanity to effect a moral transition to an adaptive state of mind, which is particularly salient in the face of today's rapidly changing climate. To mark this wonderful occasion as well as Lucy's contribution to documentary film making, GFDD/FUNGLODE will be holding a special ceremony in her honor on Friday, September 6th at FUNGLODE headquarters. Furthermore, Lucy has kindly agreed to impart some of her knowledge to attendees of the festival by holding a workshop on the creation of documentary film making, which aims to help inspire attendees to see how they could help pass on their own enthusiasm for the environment to others.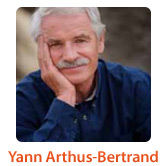 Yann is a world renowned environmentalist who has made it his life goal to demonstrate the Earth's beauty and show the impact of mankind on the Planet. He has always had a passion for the animal world and the natural environment. Indeed, his earliest projects focus on the relationship between mankind and animals. During his time as a reporter, he has collaborated with numerous publications including the National Geographic and Life magazine. In 1992, Yann embarked on a project entitled "The Earth From the Air", a photographic encyclopedia paying tribute to our planet, which he then published in the year 2000. The publication was hugely successful, selling over 3 million copies, with its outdoor exhibitions having to date been seen by over 200 million people. In reaching out to such a vast audience, Yann has been able to showcase the wonders of the world to allow people to more fully appreciate the earth at its most natural and respect its resources. With this in mind, Yann created the Goodplanet Foundation in 2005 to raise public awareness of environmental issues, implement carbon offset programs and fight deforestation. His dedication to the protection of the environment has been recognized at the highest level, having been commissioned to complete several projects for the United Nations.  One of these projects includehis latest film Planet Ocean which he co-directed for Rio+ 20 with Michael Pitiot. Through extraordinary images of our oceans the documentary aims to explain some of the planet's greatest natural mysteries and highlights how essential it is that we learn to live in harmony with our oceans. This project, together with A Thirsty World, a film that focuses on people who are engaged in the daily struggle to find water, purify it or bring it to those who need it, are both being screened at the III DR Environmental Film Festival (see below for further details). As part of his presence at the festival, Yann will also be holding a workshop focusing on the art and science of aerial photography, during which he will share his personal stories and insight on this particular art form, as well as pass on some valuable advice on how to pass on an effective message through art.
To register for either of these workshops or attend any of the screenings listed during the festival, please visit the DREFF's official at www.dreff.org.
Follow us on Facebook and Twitter, and don't miss any of the latest developments!
Comments