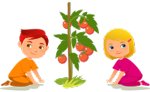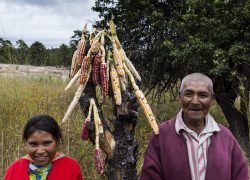 Screening:
Tuesday, September 13 - 11:00am
Colegio Bilingue New Horizons, Santo Domingo
Thursday, September 15 - 4:00pm
UNPHU, La Vega
Friday, September 16 - 11:30am
Colegio Dominicano, Santiago de los Caballeros
Seen through the eyes of small, midsize and large Mexican maize producers, Sunú knits together different stories from a threatened rural world. The film journeys deep into the heart of a country where people realize their determination to stay free, to work the land and cultivate their seeds, to be true to their cultures and forms of spirituality, all in a modern world that both needs them and despises them. Sunú reveals how maize and everything it gives life to could be lost forever, and shares a generous tapestry of simple, heartfelt messages for the farmers of the world and the city dwellers who could lose the capability to make important choices unless they act soon.
Director: Teresa Camou
Country: Mexico
Year: 2015
Duration: 80min
Language: Spanish
Teresa Camou
Born and raised in México, Teresa has always first considered herself to be a puppeteer, which she discovered to be her passion. In 1996, she joined the Bread and Puppet Theatre, and continues to collaborate with them to this day. After earning a B.A in Visual Arts and Social Science at Bennington College, in 2004, she went on to found and direct "El Teatro Indígena de la Sierra Tarahumara", which has become a native Mexican puppet theatre company based in northern Mexico's Sierra Madre, known as the Sierra Tarahumara. Along with her work in theater, Teresa began to make short on-site, documentary films about issues related to Tarahumara communities and was able to film two stop motion animations: "Tewe Chiva Nesero" (2007) and "El Entierro" (2008), which was recognized at the International Film Festival in Chihuahua city and recently produced and directed "SUNÚ" (2015) her first feature film, a documentary film about the struggle of Mexican farmer to keep their native seed alive. In 2009, she won a Chihuahuan Institute of Culture grant to publish a collection of scripts and stories from el teatro named "Andares, Cantares". In December 2015 she was asked to join to be jury for the IMCINE (Mexican Institution of Film Industry) for their grants for postproduction in FOCPORCINE. She is now recently working on her second documentary feature film.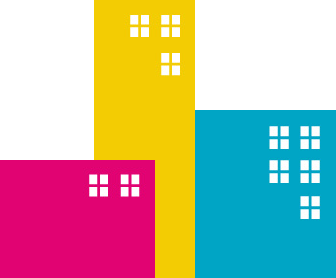 Categories
Sustainable Foods
Films to help us reflect on the food we eat, how it's produced, and the effects of our daily eating decisions on our environment.
Biodiversity
These films help us explore the oceans and seas and their corals; birds and other species under threat of extinction; and the abuses committed by humans against global biodiversity. Inspiring, emotive, dramatic, and impactful stories that are guaranteed to rouse any viewer out of apathy.
Climate Change
A selection of films showing the broad reach of the effects of climate change on our lives. From innovative looks at previously neglected sectors (such as commercial shipping) to reflections on properly evaluating a nation's wealth through its natural resources, cultural heritage, and opportunities for improvement in all areas affected by climate change.
Clean Energy
A look at clean energy alternatives that open the path to a future free of fossil fuels. Films analyzing issues ranging from the effects of coal on the Dominican-Haitian border and oil spills in our oceans, to a survey of the currently available sources of renewable energy.
Sustainable Practices and Attitudes
Provocative projects, innovative ideas, and manifold possibilities that show us how to adopt new attitudes and practices to contribute to sustainability. In our daily consumption of products and services (electricity, clothing, hygiene products, and more), in building our homes, in recycling: small actions can yield big results.
And there's more...
Ecofilm Kids' Short Films Program. A special collaboration between DREFF and the Ecofilm International Environmental Short Film Festival in Mexico.