Global Foundation for Democracy and Development (GFDD) and its sister organization in the Dominican Republic, Fundación Global Democracia y Desarrollo (FUNGLODE), announced the film Bears has been this year's "Audience Award 2014" winner, recognition given by the public that attended the IV edition of the Dominican Republic Environmental Film Festival (DREFF), held on September 10 to 14, 2014 in the Dominican Republic.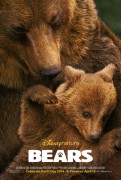 The selection process was conducted by the viewers who attended the screenings during the DREFF, who rated the movies on a ballot distributed in each presentation. A jury was in charge of counting the votes at the end. The audience chose the best film among the 37 presented at the DREFF 2014, where 16 feature films, 8 short films, 6 Dominican productions, 5 GFDD productions and 2 retrospectives were screened.
Bears, directed by Keith Scholey and Alastair Fothergill and produce by Disneynature, is an epic story on a breathtaking scale. Showcasing a year in the life of a bear family — mother Sky teaches her two impressionable cubs, Amber and Scout, about life's most important lessons. Emerging from hibernation, the three face the bitter cold and an exciting but very risky outside world.
For more information and to watch the trailer, you can visit http://www.dreff.org/2014/bears/?lang=en