Dominican Swimmer Marcos Díaz Encourages the Youth of La Caleta to Work Hard to Pursue their Dreams
Santo Domingo, September 9, 2012
"We can achieve everything we desire regardless of what's taking place around us. What's important is to be determined," declared Dominican swimmer, Marcos Díaz, during a motivational talk to young people from the community of La Caleta, on Sunday, September 9, which formed part of the Second Dominican Republic Environmental Film Festival (DREFF), organized by Global Foundation for Democracy and Development (GFDD) and Fundación Global Democracia y Desarrollo (FUNGLODE).
The Dominican open water swimmer encouraged the young participants to follow through on their dreams and to not give up because conditions are unfavorable.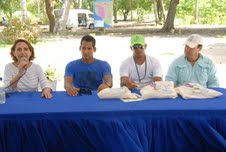 Díaz explained to those in attendance that swimming, in its essence, teaches one of the difficulty of pursuing an important goal. "When we want to achieve a goal, the pathway is not always a straight line. You have to maintain your conviction."
He communicated that those that realize their dreams do not always have someone lending them a hand. Nor are they always of economic means or entitled to special conditions. "Attaining one's goals is the result of preparation, hard work and responsibility," expressed Díaz.
The activity in La Caleta was led by the Director of the GFDD Washington Office, Asunción Sanz; President of Fundación Rescate y Vida (Rescue and Life Foundation), Gilberto Avalo; and Director of Reef Check, Rubén Torres.
Avalo and Torres conveyed their satisfaction, and spoke of the importance of community inclusion in initiatives such as the Dominican Republic Environmental Film Festival, which seek to raise awareness of environmental concerns, and also communicated their interest in participating in future festivals.
The program concluded with an open swim, which included the participation of 36 young people. The following persons received awards for first place: Anthony José Román (Beginners Group); José Manuel Paulino (Intermediate A Group); and Alexander Jacques, (Intetermediate B Group).
A special recognition was given to Helen Adriaanse, a festival guest, who also participated in the competition.
Collaborators:
The realization of DREFF 2012 has been made possible thanks to support and contributions from our collaborators:
Centro Cuesta Nacional (Arrecife), Banco de Reservas (Colibrí), Fundación Vida Azul, Panorama Verde, Odebrecht, Uepa.com, Uepa Radio, PUNTACANA Resort & Club, el Proyecto Nautilius, the Ministry of Environment and Natural Resources of the Dominican Republic, Sueños de Colores (Dreams in Color), la Revista Flow (Flow Magazine), el Centro Cultural Perelló (Perelló Cultural Center), the Embassy of Spain in the Dominican Republic, , Universidad Nacional Pedro Henríquez Ureña (UNPHU) (Pedro Henríquez Ureña National University), the Ministry of Culture of the Dominican Republic, Clúster Turístico del Destino Puerto Plata (Tourism Cluster Destination Puerto Plata), la Universidad Católica Nordestana de San Francisco de Macorís (Catholic University Nordestana de San Francisco de Macorís), el Centro Cultural Narciso González (Narciso González Cultural Center), Centro León, CEDAF, Terra and RENAEPA, among others.
Related links:
www.drenvironmentalfilmfestival.org
www.environmentaldictionary.org
www.globoverdedominicano.org