Special Guest -- Fabien Cousteau
Growing up with his grandfather, revered oceanographer, Jacques Cousteau, Fabien developed a passion for the ocean environment at a young age. Diving since age four, he grasped the vital importance of the Earth's underwater ecosystems.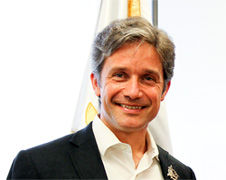 Fabien's approach to environmental stewardship reflects his firm belief that solutions to environmental challenges can respond to the realities of the market economy. In that regard, Fabien is the creator of Plant A Fish (PAF), which is a non-profit institution dedicated to "replanting" aquatic species of animals and plants in environmentally stressed areas around the world. Plant a Fish partners with local communities, schools, businesses, government agencies and other non-profits to foster actions that positively impact the natural world.
PAF's ultimate goal is to plant, in collaboration with its partners, one billion "fish." PAF coordinates environmental restoration initiatives in four critical areas: reestablishment of healthy oyster populations, revitalization of endangered sea turtle species, reforestation of mangrove forests, and cultivation of corals, in critical areas around the world.
The environmental economist and oceanographer is also the Co-Founder of Natural Entertainment, which produces environmental exploration and awareness programs through television and other media.
In 2006, he partnered with his father, Jean Michel Cousteau, and his sister Celine, to create the 3-year-long series for PBS, Ocean Adventures.