Workshop on Recycling Promotes Creativity and Concern for the Environment
Santo Domingo, September 8, 2012
Children and adults filled the large conference room at the headquarters of Fundación Global Democracia y Desarrollo (FUNGLODE) in Santo Domingo, Dominican Republic to learn about creating art from plastic bottles and cardboard cartons from instructors Bertha Santana and Moses Ros. The workshop "Recyclart," was realized within the framework of the Second Dominican Republic Environmental Film Festival (DREFF).
Recycling artist, Santana demonstrated the extent of her ingenuity when it comes to reusing plastic bags and bottles – an impressive wedding dress and an elegant floor-length gown in various tones of blue, flowers and hair accessories.
With bottles and scissors, the artist set the inspired workshop participants off to create.
Others followed the lead of Ros, a master creator of etchings and mobiles made of cardboard containers.
Former President of the Dominican Republic and President of Global Foundation for Democracy and Development (GFDD) and Fundación Global Democracia y Desarrollo (FUNGLODE), Dr. Leonel Fernández, paid an impromptu visit to conference room to view the innovative works of art being created by children and adults alike.
Ros and Santana explained to Dr. Fernández the close link that can be established between artistic production and environmental preservation, sharing with him examples of their work.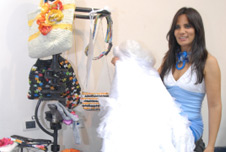 Santana, Designer of Reusable Plastic
During the workshop, Santana did what she has been inspired to do for the last 10 years: recycle. With this objective, she developed the project Manos, Arte y Reciclaje (MAR) (Hands, Art and Recycling), which seeks to create spaces for the development of manual arts from trash and reusable materials.
The workshops she realizes are divided into units depending on the materials being utilized. She also speaks enthusiastically of the "3 R's": reduce, reuse and recycle, emphasizing that recycling consists of searching for an alternative and transforming used materials that would otherwise be disposed of into new objectives.
Through practical examples, she demonstrates how to get new value from the items we are ready to toss in the trash, converting them into new objects with completely different uses than the ones they had previously when we bought them.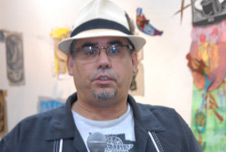 Moses Ros, Artist of Recycled Materials of Dominican Origen in the United States
Moses Ros-Suárez, a New York artista of Dominican descent, brought to the Festival and the workshop some of his impressive work made out of recycled cardboard. The artist also does sculpture and painting.
Two years ago he began to devote part of his work to the creation of installations featuring mobiles and collages made from cardboard containers.
The artist strives to create awareness of the fact that there cannot be so much waste that we simply throw in the trash. He promotes alternative uses for used products as a method for preserving the environment.
Screening of Discover La Vega: Pride of My Land and my Waste Land
At 5:00 pm the same day, DREFF screened the documentary film Discover La Vega: Pride of My Land, by director Máximo José Rodríguez and screenwriter Dagoberto Tejada.
This documentary recreates the religious beliefs, folkloric manifestations, natural diversity, history and cuisine of the province of a La Vega and its municipalities, which include La Vega, Jarabacoa, Constanza and Jima Abajo.
Collaborators:
The realization of DREFF 2012 has been made possible thanks to support and contributions from our collaborators:
Centro Cuesta Nacional (Arrecife), Banco de Reservas (Colibrí), Fundación Vida Azul, Panorama Verde, Odebrecht, Uepa.com, Uepa Radio, PUNTACANA Resort & Club, el Proyecto Nautilius, the Ministry of Environment and Natural Resources of the Dominican Republic, Sueños de Colores (Dreams in Color), la Revista Flow (Flow Magazine), el Centro Cultural Perelló (Perelló Cultural Center), the Embassy of Spain in the Dominican Republic, , Universidad Nacional Pedro Henríquez Ureña (UNPHU) (Pedro Henríquez Ureña National University), the Ministry of Culture of the Dominican Republic, Clúster Turístico del Destino Puerto Plata (Tourism Cluster Destination Puerto Plata), la Universidad Católica Nordestana de San Francisco de Macorís (Catholic University Nordestana de San Francisco de Macorís), el Centro Cultural Narciso González (Narciso González Cultural Center), Centro León, CEDAF, Terra and RENAEPA, among others.
Related links:
www.drenvironmentalfilmfestival.org
www.environmentaldictionary.org
www.globoverdedominicano.org