Extinction in Progress

The poorest country in the Western Hemisphere, Haiti is still struggling to get on its feet from the disastrous 2010 earthquake. But the real problem Haiti faces in the near future is the complete degradation of its natural resources. Today, forests cover less than two percent of its territory and scientists predict a mass extinction of Haiti's biodiversity. Over a three-year period, a team of scientists and naturalists travel to the most remote locations in Haiti to investigate the current state of its biodiversity. Surprisingly, they discover almost 50 new species and rediscover species thought to be lost, including one of the most endangered mammals, the Hispaniolan solenodon.
Title: Extinction in Progress
Country of Origin: Haiti/USA
Year of completion: 2013
Duration: 56 min.
Format: DVD
Language: English
Subtitles: Spanish
Film Credits:
Director/Writer: Jürgen Hoppe
Producers: Dr. Blair Hedges & Jürgen Hoppe
Photography: Miguel Landestoy
Screening at:
September 11, 2014
7:00 PM
San Juan de la Maguana
Centro Cultural Monina Cámpora
September 12, 2014
7:00 PM
Santo Domingo, FUNGLODE
September 13, 2014
6:00 PM
Baní, Centro Cultural Perelló
Biography of Jürgen Hoppe: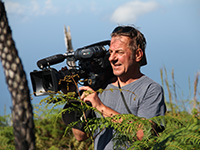 Jürgen Hoppe, photographer and biologist, was born in Germany in 1959 where he studied in Berlin and Hamburg. He complemented his studies with environmental research trips around the world. One of his major achievements was in Costa Rica where he worked on documenting the country's protected areas. After having established residence in the Dominican Republic in 1985, he got involved in environmental issues and began working with groups that defend the environment.
He is one of the most active wildlife filmmakers in the Caribbean, having produced more than 25 documentaries in the past 15 years; he specializes in extremely rare species. He frequently works as a producer and cameraman for large companies and is president of Caribemotion Production Company, based in Santo Domingo.
As a member of the Board of Directors of the National Botanic Gardens of Santo Domingo, Hoppe continues to work with numerous conservationist groups as well as national and international organizations. Jürgen Hoppe is also known for his series of publications on Caribbean flora and fauna, published in four languages.