Growing Cities

Examining the role of urban farming in America, this documentary considers how much power this burgeoning movement has to revitalize our cities and change the way we eat. Searching for answers, the filmmakers take a road trip across America to meet the urban visionaries who are challenging the way the country grows and distributes its food —from those growing food in backyards to make ends meet; to educators with the goal of teaching kids to eat better; to activists seeking a meaningful alternative to the industrial food system, and more.
By showcasing innovative ways urban dwellers are producing food, the film inspires people to engage more deeply with their food system—whether that means growing tomatoes in a windowsill or getting a flock of backyard chickens. At its core, the film asks viewers to re-imagine what's possible in urban settings and shows how everyone can be a producer in a society driven by consumption.
Title: Growing Cities
Country of Origin: USA
Year of completion: 2013
Duration: 97 min.
Format: DVD
Language: English
Subtitles: Spanish
Film Credits:
Director/Writer: Dan Susman
Producers: Dan Susman, Andrew Monbouquette, & Dana Altman
Photography: Andrew Monbouquette
Editor: Alexandru Moscu
Screening at:
September 11, 2014
5:00 PM
La Vega, UNPHU
September 12, 2014
6:30 PM
Baní, Centro Cultural Perelló
Biography of Director Dan Susman: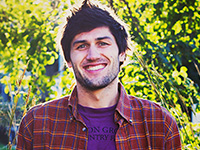 Dan is a co-founder of Elmwood Motion Picture Company and filmmaker whose focus is on creating documentaries that inspire environmental and social change. Dan was given the most outstanding film award from Dartmouth College for Landmark, his short film that brought together a diverse group of community members to save a forest from destruction. Dan was also selected to attend Working Films' Reel Change Summit where he honed the engagement and outreach plan for Growing Cities.