Save the devil

One is a family of Haitian farmers struggling daily to feed their children and one is a family of birds formerly thought to be extinct living in the last place on Earth they can hide. As starving Haitians burn the remaining trees and move further up the mountains to grow food the birds must move or die. Haiti is almost completely deforested and it is only a matter of time before there are no trees left. The bird, called the Black-capped Petrel by scientist and the Diablotín by locals, is a speaker from the future. The bird is an indicator of what is to come. When the little devil is pushed to extinction the people are not far behind.
Title: Save the devil
Country of Origin: United States/Haiti
Year of completion: 2014
Duration:  3.20 min. Work in Progress
Format: DVD
Language: English
Subtitles: Spanish
Film Credits:
Director/Writer: Aaron Straight
Producer: Aaron Straight & Mark Dickison
Photography: Guido Ronge
Screening at:
September 12, 2014
7:00 PM
Santo Domingo, FUNGLODE
Biography of Director Aaron Straight: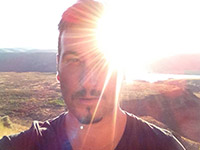 Aaron Straight is a filmmaker who has directed & produced projects around the world on 4 continents in remote locations throughout Africa and Haiti directing people from Maasai warriors to Al Gore.  As Senior Creative Director at TRIFILM, Straight's work ranges from campaigns, feature documentaries, shorts, mixed media, and TV commercials. Some of his clients include IBM Smarter Cities, BgC3, Heifer International, B Corporation/ B Lab, PATH, Bill & Melinda Gates Foundation, The Bullitt Foundation, and The Seattle Foundation. Straight is the Media Advisor to Wildlife Media and an architect of the BEARTREK Campaign for 2014. He is also the co-creator of  Why Bears?  with BBC/PBS Chris Morgan. Straight is directing a new feature documentary filming in Haiti in 2014 called Save the devil. Straight is dedicated to using the power of storytelling for people and the planet.