Pandora's Promise

The atomic bomb and meltdowns like Fukushima have made nuclear power synonymous with global disaster. But what if we've got nuclear power wrong? An audience favorite at the Sundance Film Festival, PANDORA'S PROMISE asks whether the one technology we fear most could save our planet from a climate catastrophe, while providing the energy needed to lift billions of people in the developing world out of poverty. In his controversial new film, Stone tells the intensely personal stories of environmentalists and energy experts who have undergone a radical conversion from being fiercely anti to strongly pro-nuclear energy, risking their careers and reputations in the process. Stone exposes this controversy within the environmental movement head-on with stories of defection by heavy weights including Stewart Brand, Richard Rhodes, Gwyneth Cravens, Mark Lynas and Michael Shellenberger. Undaunted and fearlessly independent, PANDORA'S PROMISE is a landmark work that is forever changing the conversation about the myths and science behind this deeply emotional and polarizing issue.
Title: Pandora's Promise
Country of Origin: USA
Year of completion: 2013
Duration: 87 min.
Format: DVD
Language: English
Subtitles: Spanish
Film Credits:
Director/Writer: Robert Stone
Producers: Robert Stone, Susan Swartz, Dan Cogan, & Jim Swartz
Photography: Robert Stone & Howard Shack
Editor: Don Klenzy
Screening at:
September 11, 2014
4:00 PM
Santo Domingo, UNPHU
September 11, 2014
7:00 PM
Santo Domingo, FUNGLODE
September 13, 2014
9:30 AM
San Francisco de Macorís
Salón de Conferencia, Biblioteca Nazario Rizek-Badia Llabaly-UCNE
September 13, 2014
6:00 PM
La Vega, Casa de la Cultura de Constanza
Biography of Director Robert Stone: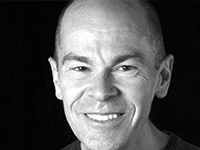 Robert Stone is a multi-award-winning, Oscar®-nominated and Emmy-nominated documentary filmmaker. Born in England in 1958, Stone grew up in both Europe and America. After graduating with a degree in history from the University of Wisconsin- Madison, he moved to New York City in 1983 determined to pursue a career in filmmaking. He gained considerable recognition for his first film, Radio Bikini (1987), which premiered at Sundance and was nominated for an Academy Award® for Documentary Feature. Multi-tasking as a producer, director, writer, editor and cameraman, Stone has over the last 25 years developed an esteemed international reputation for his unique and critically acclaimed feature-documentaries about American history, pop-culture, the mass media and the environment. Owen Gleiberman of Entertainment Weekly called Stone "the most under-celebrated great documentary filmmaker in America," for directing "two of the most explosively insightful documentaries of the last decade." His best-known films include Guerrilla: The Taking of Patty Hearst (2004), which premiered at Sundance, and Oswald's Ghost (2007) for which Stone earned his second Emmy nomination for Outstanding Achievement in Non-Fiction Filmmaking.