Last Call

40 years ago a book shook the world. The Limits to Growth became a bestseller worldwide. It was based on a report by a team of brave scientists from the MIT. Today their message is more relevant than ever: Planet Earth has its limits. Economic growth at full pace will bring our society and environment into overshoot and on the edge of collapse.
Today the authors of The Limit to Growth provide provocative insight into the reasons behind the ongoing global crisis and share their visions of mankind's future. Is there still time for one last call?
Title: Last Call
Country of Origin: Italy
Year of completion: 2013
Duration: 54 min.
Format: DVD
Language: English & Italian
Subtitles: Spanish
Film Credits:
Director/Writer: Enrico Cerasuolo
Producers: Massimo Arvat & Ingunn Knudsen
Photography: Torstein Nodland
Editor: Marco Duretti
Screening at:
September 10, 2014
5:00 PM
Santo Domingo, Palacio de Cine – Ágora Mall
September 11, 2014
11:00 AM
San Francisco de Macorís
Salón de Conferencia, Biblioteca Nazario Rizek-Badia Llabaly-UCNE
September 12, 2014
4:00 PM
Santo Domingo, UNPHU
Biography of Director Enrico Cerasuolo: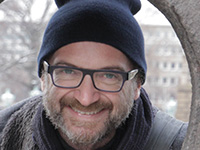 Born in Venice in 1968, Enrico Cerasuolo is a documentary director and screenwriter. Since 1992 he has been president of the production company Zenit Arti Audiovisive in Turin.
He has written and directed many international documentary films which have been awarded by national and European festivals including: From Garibaldi to Berlusconi (2011); The Hidden Face of Fear (2008); Space Hackers (2007); Peter's Dream (2007); Checosamanca (2006), and The Enigma of Sleep (2004).