Lago Enriquillo… Preludio del Cambio Climático

History and Evolution of the Largest Lake in the Antilles: Its flora, fauna and its legends. This film is an exhaustive investigation into the lake's rising water level, analyzed by professionals who have researched it for years. The documentary looks at how the rising water is affecting the area's inhabitants while attracting the attention of the scientific community around the world who view the phenomenon as a window into the effects and consequences of climate change.
Title: El Lago Enriquillo….A Prelude to Climate Change
Country of Origin: Dominican Republic
Year of completion: 2014
Duration: 73 min.
Format: HD
Language: Spanish
Subtitles: Spanish
Film Credits:
Director/Writer: Fernando Báez
Producers: Sarah Pérez
Photography: Fernando Báez and Frankie Báez
Editor: Fernando Báez
Screening at:
September 13, 2014
4:00 PM
Santiago, Centro León
September 14, 2014
7:00 PM
Santo Domingo, FUNGLODE
Biography of Director Fernando Báez:
Fernando Báez Mella, outstanding Dominican film director, was born January 23, 1957 into a family of photographers and filmmakers. His grandfather, Tuto Báez, made the first ever feature film in the Dominican Republic. Today Tuto's six children are involved in film, television and advertising in his two companies Único Advertising and Unicornio Films.
Mr. Báez Mella has held key positions at major television stations around the country as a TV director producer with Color Vision, Rahintel and Channel 13. He has received many local and international awards for programs and television specials.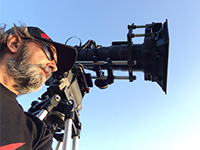 He is a prolific documentary filmmaker with an obvious interest in conservation work as well as environmental and social issues. His documentaries about the ocean and sea have shown the world the beauty and wealth that lies under water along the shores of the Dominican Republic.
He is currently the president and owner of Unicornio Films, the oldest of its kind in the Dominican Republic. He also owns Único Advertising, Marketing Green.
Known for making institutional TV commercials for important Dominican companies, Baez's work is outstanding for its high-quality photography and profound content of it message. His advertising work for the Dominican Ministry of Tourism has had a great influence on promoting the country for over a decade.
Baez is internationally recognized for his political campaigns (for TV and Radio), and has been awarded the Pollie Award and American Association of Political Consultants Award.
His feature film, El Rey de Najayo, premiered in March 2012 along with approval of the new Film Law of the Dominican Republic. El Rey de Najayo is considered by critics to be one of the best film productions done in the country.