Sand Wars

By the end of the 21st century, beaches will be a thing of the past. That is the alarming forecast of a growing number of scientists and environmental NGOs. Sand has become a vital commodity for our modern economies: we use it in our toothpaste, detergents, and cosmetics, and computers and mobiles couldn't exist without it.  Our houses, skyscrapers, bridges and airports are all basically made with sand: it has become the most widely consumed natural resource on the planet after fresh water.  The worldwide construction boom fuelled by emerging economies and increasing urbanization has led to intensive sand extraction on land and in the oceans, with damaging environmental impacts. Sand Wars takes us around the world as it tracks the contractors, sand smugglers and unscrupulous property developers involved in the new gold rush, and meets the environmentalists and local populations struggling to reverse the threat to the future of this resource that we all take for granted.
Title: Sand Wars
Country of Origin: France
Year of completion: 2013
Duration: 74 min.
Format: DVD
Language: English
Subtitles: Spanish
Film Credits:
Director/Writer: Denis Delestrac
Producers: Guillaume Rappeneau, Laurent Mini, Nathalie Barton, & Karim Samai
Photography: Marc Martinez Sarrado
Editor: Seamus Haley, Michelle Hollander, & Ibon Olaskoaga
Screening at:
September 11, 2014
7:00 PM
Santiago, Centro León
September 12, 2014
11:00 AM
San Francisco de Macorís, Salón de Conferencia, Biblioteca Nazario Rizek-Badia Llabaly-UCNE
September 12, 2014
7:00 PM
Puerto Plata, UASD
Biography of Director Denis Delestrac:
Denis Delestrac (born in France, 1968) is an award-winning film director and author. He is best known for creating inimitably entertaining feature documentaries on highly topical subjects, which have provoked public debate and influenced political decision making internationally.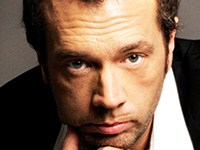 Denis Delestrac made his debut in non-fiction filmmaking in 2001 and signed a dozen documentaries. Among his most recent credits are IMAX blockbuster Mystery of the Nile and the multi award-winning Pax Americana and the Weaponization of Space. His latest feature documentary, Sand Wars premiered at the legendary Cinéma Publicis on the Champs-Elysées in 2013 and was first broadcast in May in France and Germany (ARTE), where it became the highest rated documentary for 2013. A Gold Panda Award winner, Sand Wars is distributed worldwide by PBS International.
A passionate lecturer, Delestrac – whom the North American press usually refers to as "the French Michael Moore" – is devoted to sharing his expertise with students and professionals around the world. His documentary workshops and master-classes – focusing on international coproduction, development, funding and access – have been imparted in festivals and universities in France, Spain, Latin America, USA and Africa.