Gringo Trails

Is tourism destroying the world–or saving it? From the Bolivian jungle to the party beaches of Thailand, and from the deserts of Timbuktu, Mali to the breathtaking beauty of Bhutan, GRINGO TRAILS shows the unanticipated impact of tourism on cultures, economies, and the environment, tracing some stories over 30 years.
Title: Gringo Trails
Country of Origin: USA
Year of completion: 2013
Duration: 79 min.
Format: DVD
Language: English
Subtitles: Spanish
Film Credits:
Director: Pegi Vail
Producers: Pegi Vail, Melvin Estrella
Photography: Melvin Estrella
Editor: Heidi Schlatter
Screening at:
September 11, 2014
5:00 PM
Puerto Plata Sosúa, Bay Grand Casino
September 12, 2014
6:00 PM
La Vega, Casa de la Cultura de Constanza
Biography of Director Pegi Vail: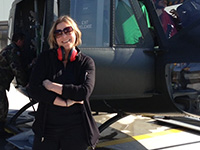 Pegi Vail is an anthropologist and Associate Director of the Center for Media, Culture, and History at NYU. She has taught at NYU and Columbia University on Film, Culture, and Tourism. Her book, Right of Passage, based on her research among backpackers in Bolivia as a Fulbright scholar, is forthcoming (Duke University Press). Vail has additionally served as lecturer for Columbia Alumni Travel Study Tours, National Geographic and Soros Open Society and as a judge for the World Travel and Tourism Council's Tourism for Tomorrow Awards. As a curator, she has collaborated with organizations such as the Museum of the American Indian, American Museum of Natural History, Museum of Modern Art (MoMA), and The Moth, the storytelling collective she was a founding board member and curator for. Vail currently serves on the Moth's General Council and Curatorial Committee. She directed the award-winning short documentary, The Dodger's Sym-phony. Gringo Trails is her first feature-length documentary.