People Like You
This short is a tribute to the work done by the informal recyclers of the Dominican Republic.
Title: People Like You
Official Title: Gente Como Tu
Country of Origin: Dominican Republic
Year of completion: 2013
Duration: 11 min.
Format: DVD
Language: Spanish
Film Credits:
Director: Celestino González Álvarez
Executive Producer: Celestino González Álvarez
Producer: Juan Tabares
Photography: Celestino González Álvarez
Editor: Celestino González Álvarez
Screening at:
September 12, 2014
10:00 AM
Santo Domingo, Centro Cultural Narciso González
September 12, 2014
5:00 PM
San Cristobal
September 13, 2014
7:00 PM
Puerto Plata, Parque Central
Biography of Director Celestino González Álvarez: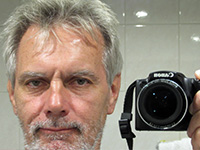 Celestino González Álvarez has more than 20 years of experience making documentaries, TV ads and film spots. He has produced television commercials for many reputable companies and organizations such as Banco BHD, Banreservas, Nestlé, AES, Mercasid, the Brugal Foundation, and UNICEF, among others. He has also taught film workshops targeting youth in the Barahona and San Pedro de Macorís provinces. Between 2003 and 2005, Álvarez served as director of Grupo 35 DR, where he managed the communications strategy for the JUMBO Supermarket brand in the Dominican Republic, including the production of TV, radio and print media advertising campaigns.