Field Chronicles: Chingaza—The Water's Journey

At 2,640 meters, Bogotá, Colombia's capital, is home to more than eight million people who depend on the surrounding mountains for their water. Here one finds the páramos, a stunning landscape that's part of a natural machine that has sustained Bogotá for centuries. This ecosystem is now threatened by mining, ranching, and large-scale agriculture, and millions could suffer if it is not conserved. Join Sandra Bessudo, Colombia's High Environmental Advisor to the President, as she explains how this breathtakingly beautiful, but fragile machine works, and why it's crucial for Bogota to thrive. Along the way she both candidly, and with a touch of humor, explains why we need to rethink our approach to economics, to better value the services nature provides.
Title: Field Chronicles: Chingaza—The Water's Journey
Country of Origin: USA
Year of completion: 2013
Duration: 22 min.
Format: DVD
Language: Spanish
Subtitles: English
Film Credits:
Director/Writer:  Peter Stonier
Producers: Peter Stonier, John Martin, & Becca Field
Photography: John Martin
Editor: David DiVerniero, Penny Trams, & Carol Slatkin
Screening at:
September 11, 2014
9:00 AM
Puerto Plata, Escuela Plan Reforma
September 11, 2014
4:00 PM
Santo Domingo, Biblioteca Infantil y Juvenil República Dominicana
September 12, 2014
10:00 AM
La Vega, Casa de la Cultura de Constanza
Biography of Director Peter Stonier: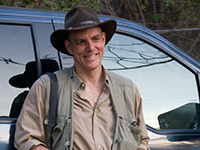 Peter Stonier has worked at CI for over five years. Determined to raise awareness and effect change on environmental issues he has traveled the globe, writing and directing award-winning films in numerous languages. A USC film school MFA graduate, Peter has twenty years of film and television production experience, at media majors such as the BBC, CNN International, Universal Pictures, and PBS, and creative agencies such as R/GA, SapientNitro, and McCann Erickson. Peter also grew up in several developing nations, studied economics at Harvard, and holds an MBA from the London Business School. He joined Conservation International with the goal of applying both his background in economic development, and all he learned in film and advertising to support CI's mission.