Extreme Realities: Severe Weather, Climate Change and Our National Security

Just pick up any newspaper or watch any television news report and it becomes evident that unprecedented extreme weather events such as severe drought and heat waves, more intense hurricanes, increased tornado and wildfire activity, and crippling blizzards are leaving a trail of death and destruction throughout the world.
In the wake of these disasters, we ask ourselves these fundamental questions: Are these merely weather events that happen once in a hundred years — or are they early warning signals of a new reality — a new normal — a tipping point pushing our planet towards an environmental cliff? And can we stop this from happening?
 Extreme Realities investigates the link between severe weather, climate change, and threats to our national security.
Title: Extreme Realities: Severe Weather, Climate Change, and Our National Security
Country of Origin: USA
Year of completion: 2014
Duration: 59 min.
Format: DVD
Language: English
Subtitles: Spanish
Film Credits:
Director/Writer: Hal Weiner
Producers: Marilyn Weiner
Photography: Dennis Boni, Erich Roland & Bill Mills
Editor: Jim NcNamee
Screening at:
September 11, 2014
11:00 AM
San Francisco de Macorís, Centro de Educacion Continua UCNE
September 12, 2014
6:00 PM
Santo Domingo, UNPHU
Biography of Marilyn and Hal Weiner:
Marilyn and Hal Weiner have produced, written, and directed more than 225 documentaries and five public television series, including "Journey to Planet Earth," "Women at Work," "Faces of Man," and "The World of Cooking." They have also produced three feature films – Family Business, The Imagemaker, and K2. Their films have been shot on location in more than 30 countries on five continents, translated into numerous languages, and broadcast throughout the world.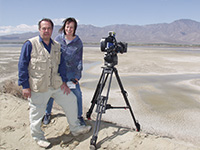 Marilyn and Hal Weiner have won Emmy Awards for "The Earth Summit Pledge," commissioned by the United Nations to open the Earth Summit in Rio de Janeiro, and "Streets of Sorrow," a television documentary about a support group formed to help people cope with the violent death of a family member. They are recipients of the National Academy of Television Arts and Science's Silver Circle Award for "outstanding contributions to the television industry." Marilyn Weiner is the winner of Women-In-Film's "Women of Vision Award" for creative excellence. In a contest sponsored by the National Endowment for the Arts and the PEN/Faulkner Foundation, Hal Weiner won first prize at the 18th annual Larry Neal Writers' Competition for his dramatic screenplay, The Jerusalem Syndrome. The Weiners have also won more than 130 top international awards.
Marilyn Weiner was appointed by Mayors Anthony Williams and Marion Barry to serve as a DC Commissioner for the Arts and Humanities for six years. She is on the Board of Directors of Filmfest DC. Ms. Weiner served on the Board of Directors of the Committee to Promote Washington, DC, the Washington Urban League, Women-In-Film and the Woolly Mammoth Theater Company. She has been President of the Washington Film Council, Vice-President of Women-In-Film, consultant to the National Commission on Working Women, Chairperson of the Advisory Committee to the Washington Office of Motion Picture Development, and Panelist for both the Corporation for Public Broadcasting and the National Endowment for the Humanities.
Hal Weiner is the founder of the Independent Media Producer's Association, served on the Board of Directors of the Council on Non-Theatrical Events and the Washington Urban League, and was an Honorary Advisor to American University's School of Communications. Mr. Weiner has also testified before the House of Representative's Commerce Committee about national security issues and the availability of the world's drinking water. He is often a guest lecturer at area universities and organizations about the art of film production.