Extinction Soup

Extinction Soup follows documentary filmmaker Philip Waller on his quest for adventure as he sets out to tell the story of his larger-than-life friend and extreme sports legend, Jimmy Hall. The film quickly takes a surprise turn when Waller finds himself consumed with exposing to the world an environmental catastrophe in the making – the extinction of the oceans' shark population through the mass slaughter of these magnificent animals for their fins. Waller documents the efforts of conservationist Stefanie Brendl as she fights to educate lawmakers and help pass groundbreaking legislation that will curb the consumption of shark fin soup, considered a delicacy in many Eastern cultures, and the impetus behind 70 million sharks being killed per year.
Title: Extinction Soup
Country of Origin: USA
Year of completion: 2014
Duration: 61 min.
Format: DVD
Language: English
Subtitles: Spanish
Film Credits:
Director/Writer: Philip Waller
Producers: Philip Waller, Stefanie Brendl, Sidney Sherman, & Travis Aaron Wade
Photography: Stephanie Brendl
Editor: Philip Waller
Screening at:
September 11, 2014
10:30 AM
Puerto Plata, Escuela Plan Reforma
September 11, 2014
7:00 PM
Samaná, Hotel Villa Serena, Las Galeras
September 12, 2014
7:00 PM
Santiago, Centro León
September 13, 2014
4:30 PM
Baní, Centro Cultural Perelló
Biography of Director Philip Waller: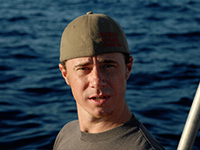 Philip Waller was born in Mountain View California. He then moved down to Los Angeles at the age of 4. After the acting bug bit him when he was 5 years old, he went on to star in a variety of national commercials and slew of TV show appearances. After ten years as an actor Philip decided to mix things up and became a director. He has directed many films and TV projects since moving behind the camera. Philip is also a world-class photographer and thrill seeker who is always in search of the next inspirational project.