In a Living Being
Mexico rises up like a living being and watches its inhabitants from above, noting all of their positive as well as negative actions.
Title: In a Living Being
Original Title: En un ser vivo
Country of Origin: México
Year of completion: 2013
Duration: 4:31 min.
Format: DVD
Language: Spanish
Film Credits:
Director: Ana Cruz
Writer: Ana Cruz
Producer: Ana Cruz
Photography: Aranzazu Zamora
Editor: Andrea Mondragón
Screening at:
September 10, 2014
10:00 AM
Centro Cultural Narciso González
September 11, 2014
8:30 AM
Baní, Centro Cultural Perelló
September 12, 2014
10:00 AM
Santo Domingo, Biblioteca Infantil y Juvenil República Dominicana
September 13, 2014
10:00 AM
La Vega, Casa de la Cultura de Constanza
Biography of Director Ana Cruz: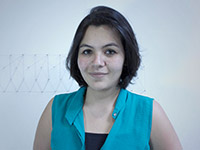 Cruz is a talented creative from Mexico City who currently works at the Casiopea studio as a director, illustrator and animated artist. A graduate of the National School of Art and Painting, she has participated in various cultural animation projects.  She directed her first short film, En un ser vivo, which won first prize at the Mexico Ecofilm Festival in 2013.