Parrot Confidential

Meet Lou Abandoned in a foreclosed home, Lou is one of thousands of parrots in need of rescue. From the wilds of Costa Rica to suburban America, a loveable, quirky cast of parrots reveal their unforgettable tales and the bittersweet world they share with humans.
Their outrageous intelligence and uncanny ability to communicate in any language has made parrots one of the world's most popular pets. But unlike dogs and cats, parrots have not been domesticated. Their complex behavior and high decibel squawks are designed for the wild. Add a lifespan of up to 70+ years with their intense need to bond, and a life in captivity doesn't always have a happy ending. With shelters and sanctuaries struggling to meet the demand, too many birds like Lou have no place to go.
Title: Parrot Confidential
Country of Origin: USA
Year of completion: 2013
Duration: 60 min.
Format: DVD
Language: English
Subtitles: Spanish
Film Credits:
Director/Writer/Producers: Allison Argo
Photography: Joseph Brunette
Editor: Allison Argo & David Kennedy
Screening at:
September 11, 2014
10:00 AM
Santo Domingo, Biblioteca Infantil y Juvenil República Dominicana
September 12, 2014
10:00 AM – 12:00 PM (Children's Program), Santo Domingo, FUNGLODE
September 12, 2014
5:00 PM
Santo Domingo, Palacio del Cine – Ágora Mall
September 14, 2014
10:30 AM
Santiago, Centro León
Biography of Director Allison Argo:
Allison Argo makes films that lend a voice to those who cannot speak for themselves. This Emmy award-winning filmmaker is known for her strong stories and intimate portraits of endangered animals and the issues they face in a human-dominated world.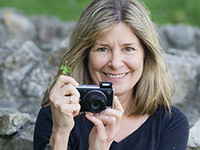 As Producer, Director, Writer and Editor, Argo has been making films for over two decades.  She has produced, directed, written and narrated 16 films for National Geographic and PBS.  Her films have won over 100 awards internationally, including six national Emmys (11 nominations), a duPont Columbia Award, and four Genesis Awards.
Nearly every one of Argo's films have explored the plight of wild animals in captivity, including: The Urban Gorilla, Chimpanzees: An Unnatural History, The Secret Life of Cats, Crash: A Tale of Two Species, The Urban Elephant, and her most recent film, Parrot Confidential.